On a warm summer day in 1962, I was walking up Montgomery Street in San Francisco's financial district.  It was the same route I walked everyday on my way to a boring temp job I had recently taken to supplement my modeling income.  Except this particular time I couldn't help but notice a young group of guys in business suits sitting in the window of a coffee shop.  One of them was smiling at me!  He had a crooked Steve McQueen grin and was looking pretty sharp in a Savoy-style pin-striped suit.  I smiled back, friendly but non-committal, and just kept walking.
Then it happened again the next day.
And the day after that.
It became a regular thing, a running "smile" between two strangers as I passed by.
Finally, one day, I decided to stop.  I popped into the coffee shop to get a take-out coffee.  In an instant the suit/smile was at my side.  He introduced himself as Burt Mugavero, said he was a Stockbroker for Reynolds & Company, claimed it was his birthday that day, June 15th, and asked me to lunch.  I happened to spot a ring on his hand that had a small diamond in it, so I politely demurred (it turned out to be, not a wedding band, but his deceased father's Elks Ring).  But without missing a beat, or losing an ounce of confidence, he gave me his business card and said he hoped I would change my mind…  Which I did…  Later that same day (I know! So hard to get 😉 ) when I called and told him I would meet him at Marconi's after work.
Two weeks later we were engaged, and six weeks after that we were in Squaw Valley on the eve of getting married!
My sister, Mary Ann, was my matron-of-honor and we were staying at a motel in Squaw near the beautiful A-frame church (made entirely of leaded glass panels) where the wedding was scheduled for the next day.  Burt was staying in Lake Tahoe with his Best Man where the reception was to take place.  Separated, and with time to think, I was suddenly stricken with anxiety and panic.  I sent word there was a problem and Burt rushed over to see me.  Mary Ann conveniently left so we could talk alone.  I told him we were moving much, much too fast and I couldn't possibly marry him.  He started pacing the floor.  Not saying anything…just pacing. Then he reached into his pocket, pulled out a white satin-covered matchbook and said "Look!  It has our names on it – Burt and Kari inside a heart with the date, August 11th!!"  I looked at the matchbook, looked at him, looked at the matchbook again and found myself nodding: "Oh, yeah…you're right.  I guess if the matches are printed we better go through with it."
It was a gorgeous day with a wide-open blue sky and the church was sparkling in the sun as we said our vows.  After the ceremony, out on the deck of the church, Burt did a double-click with his heels way up high in the air while everyone applauded and laughed with joy.
Look at this great shot and check out the Minister's reaction (in the white collar)…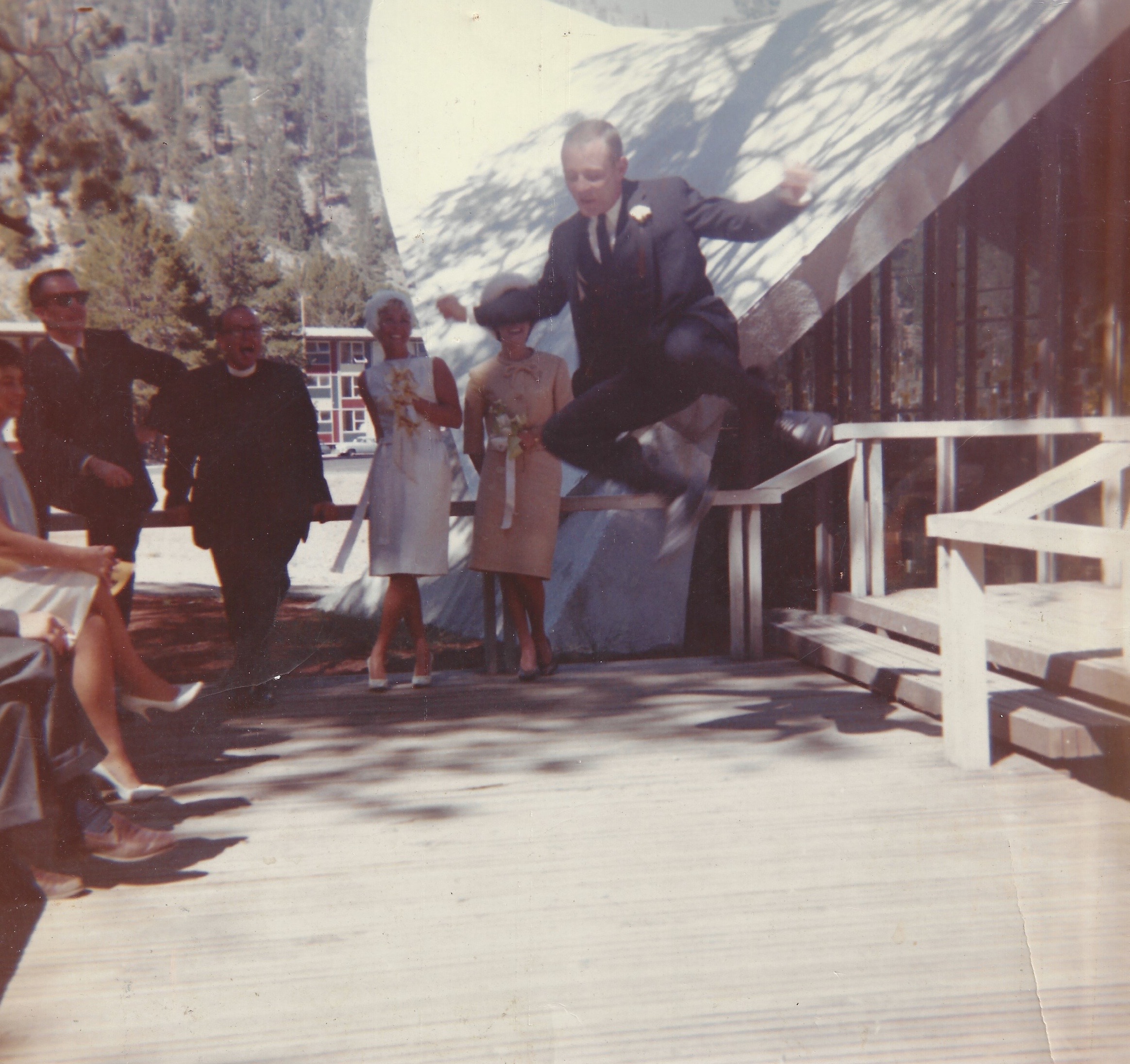 Then we all went on to Lake Tahoe for our reception at a lovely home on the lake, where our wedding picture at the top of this blog was taken.
And yes, amazingly, somehow, we lived happily ever after for 50 years!
He promised I would never be bored and he kept his promise.
Kari