I guess I should explain…
This is all connected to a recent post I did on Facebook about the classic woodcut puzzle I had just completed.  This is it!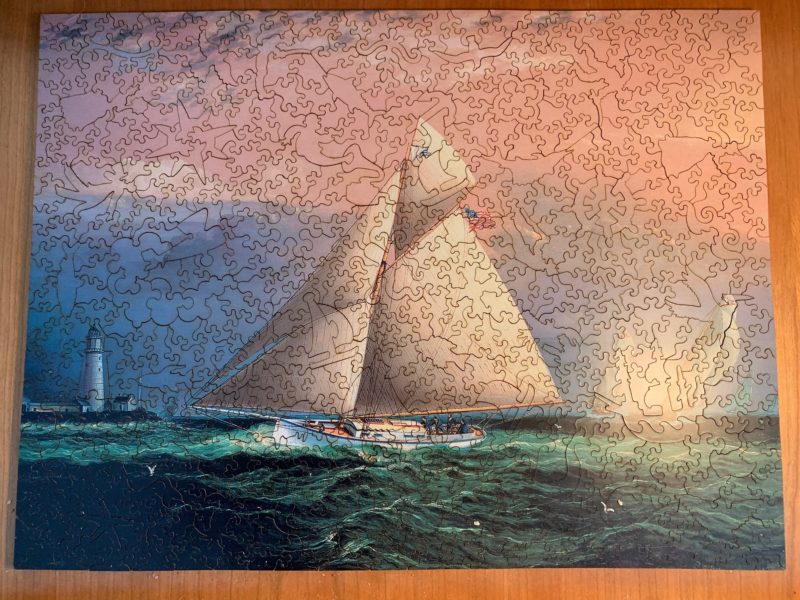 If you look closely you can see puzzle pieces shaped like a myriad of figures – animals, fish, birds, boats, a ship's wheel, etc – in the mix, making it more difficult but definitely more fun.   In the past I had purchased these special wood puzzles from Gump's, a famed store in San Francisco, but sadly learned that they had closed that iconic store.  So this brought me to researching the company on the internet, fully expecting to find it based in some quaint little New England town true to its name "Liberty Puzzles".  Wow, was I ever surprised to learn that it is located right near me in Boulder, Colorado!!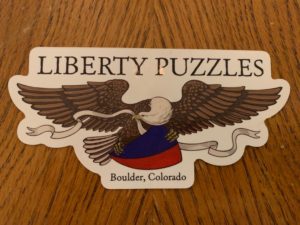 According to Wikipedia…  "Liberty Puzzles is a manufacturer of classic-style wooden jigsaw puzzles based in Boulder, Colorado.  It was founded in 2005 by Christopher Wirth and his business partner Jeffrey Eldridge, after Wirth's family inherited several hand-cut wooden puzzles from the 1930's" 
Well, naturally, I had to go there and write a blog about it…
They have a factory location and a shop on Pearl Street.  My son and I went to the factory first, as they do tours.  We found their shelves in the entrance totally empty – having been deluged with orders over the Christmas holiday.  They were weeks behind, still fulfilling orders and everyone was exhausted.  And new orders were coming in for Valentine's Day.  But they graciously took the time to give us a tour.  We were impressed!  The pictures I took show their operation with the exception of the back room they did not want photographed (through the double doors in the first photo), where these amazing – and, I'm guessing, proprietary – machines use lasers to burn/cut out the intricately-shaped pieces once the puzzle image has been attached to wood.  Fascinating!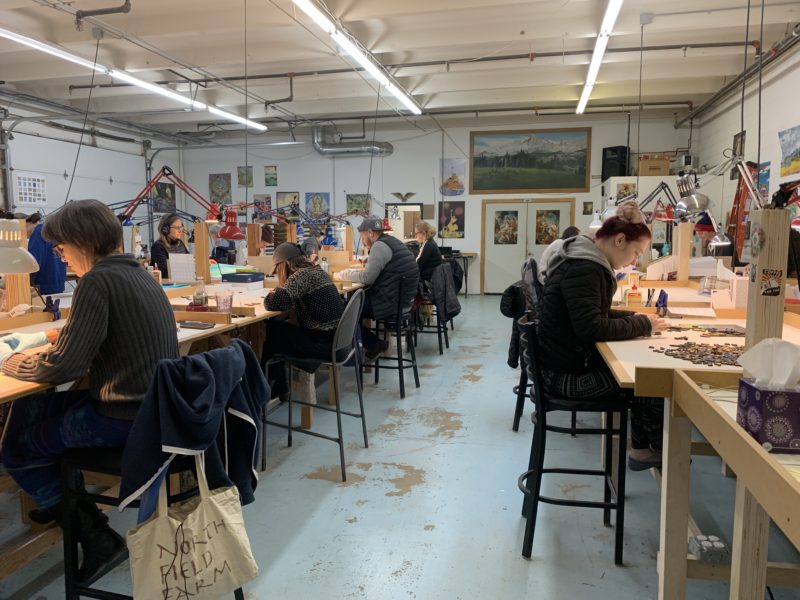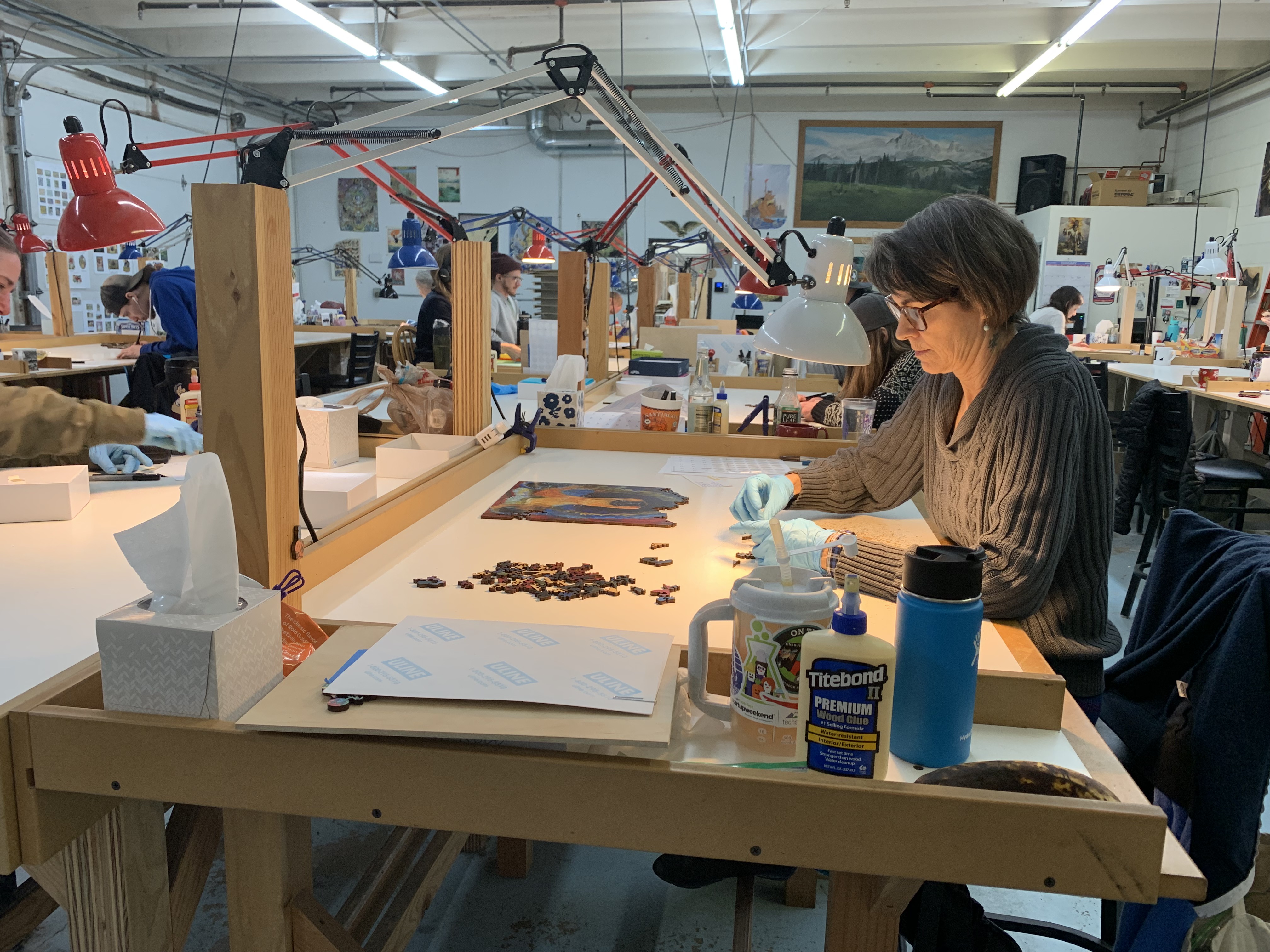 What you see here is their employees working meticulously on each and every laser-cut piece to make sure they are perfectly smooth and have no rough edges.  That is what makes them slide so beautifully into where they belong…which is a great feeling when you find the right piece and it just drops right in.

And now to explain the Wall of Shame…  It seems these pictures are of the guilty culprits who have chewed or actually swallowed pieces of the puzzles!  If the owners request the pieces replaced, it is required of them to send a photo of the naughty perpetrator for the Wall of Shame….which, as you can see, is overflowing, but makes everyone smile whenever they walk by it.  😉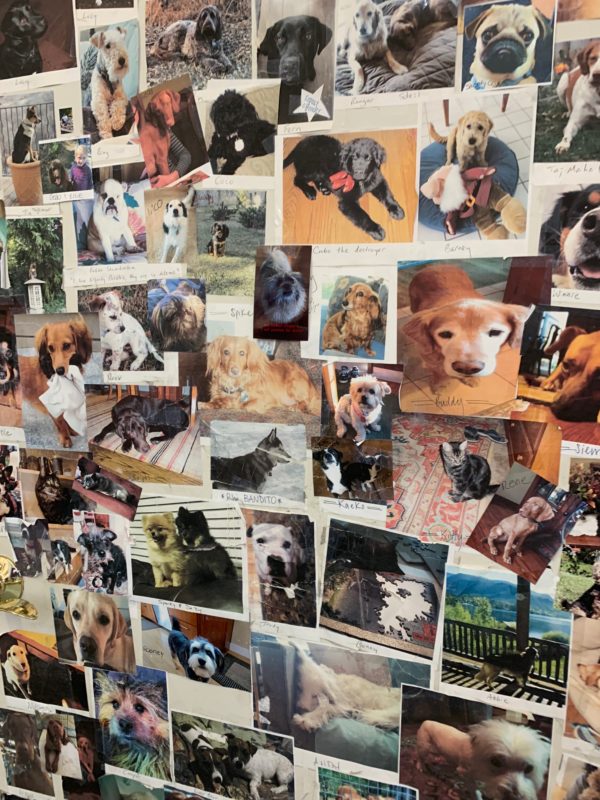 We finished our research into Liberty Puzzles by going to their shop on the Pearl Street Mall.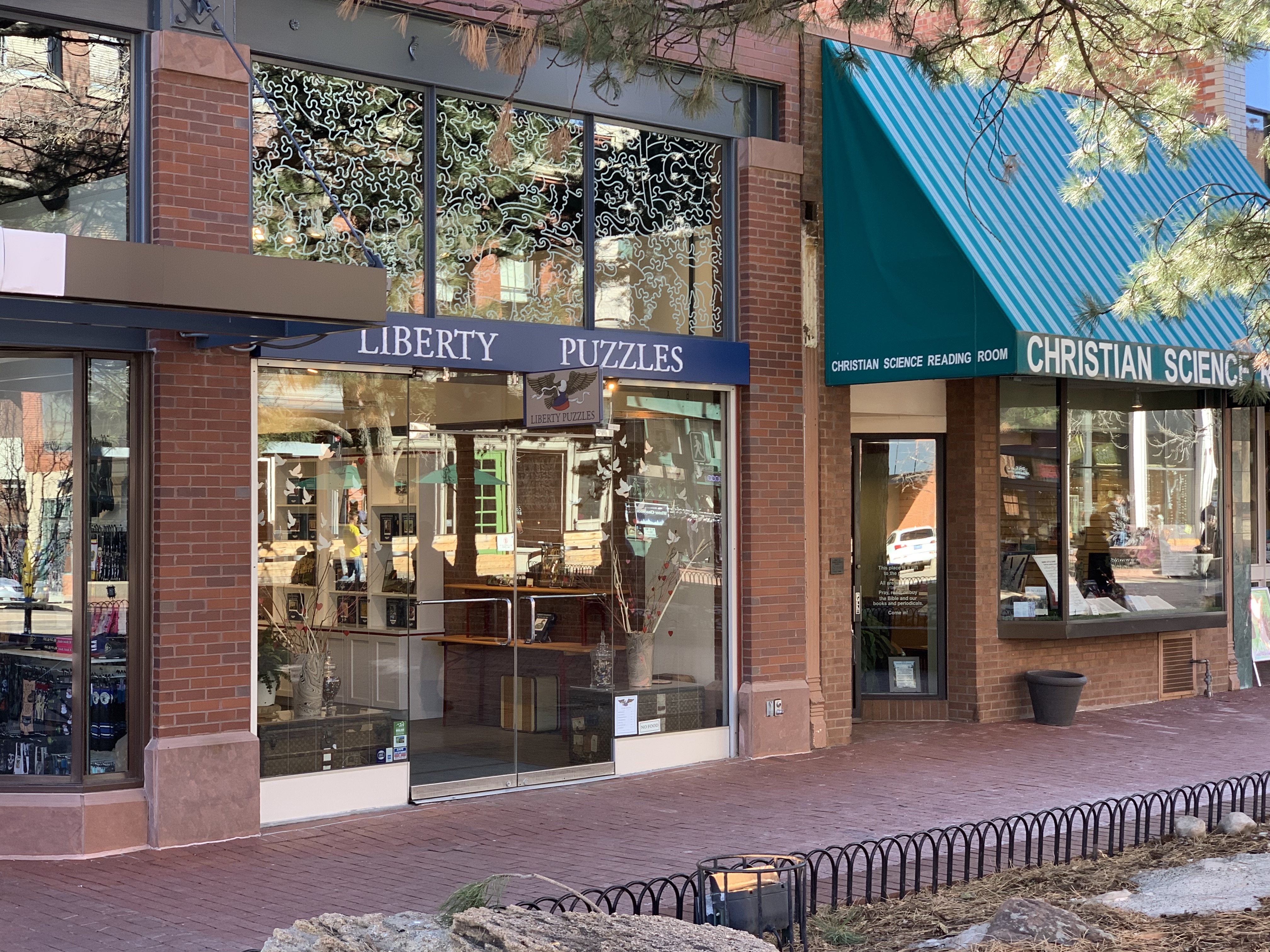 And guess what?  You guessed it: I had to make a purchase, I couldn't resist.  Frank bought one for me too.  Here they are.  And do you know some people actually ask for them without the photo on the box?!  Boy, I haven't reached that stage yet….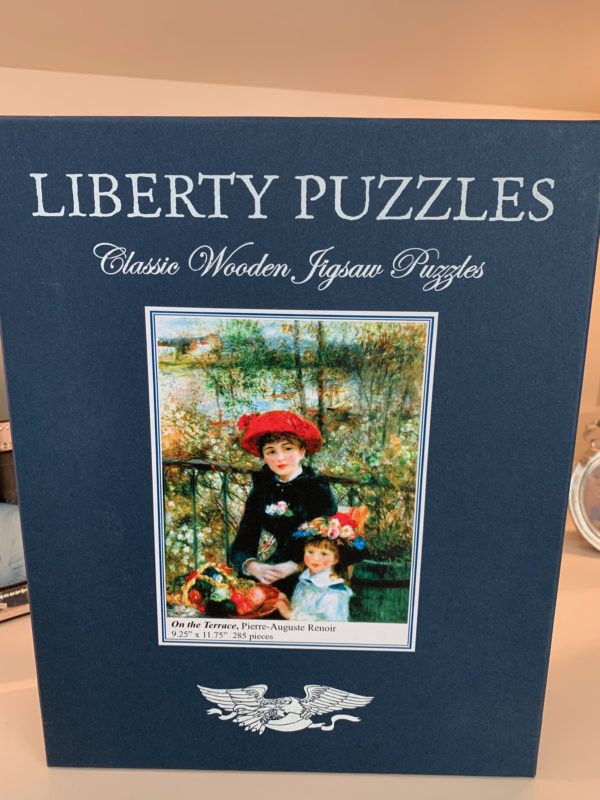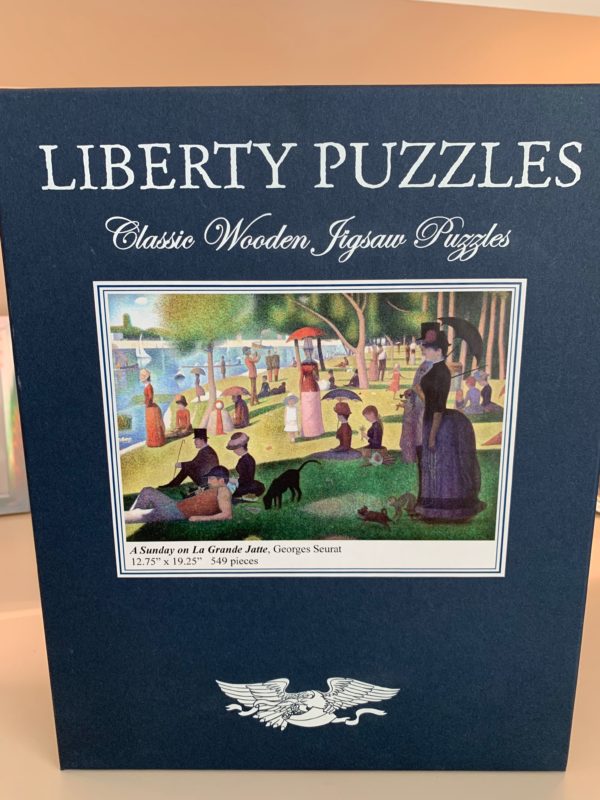 BTW they come in a variety of sizes and range from $65 to $105 – which is expensive, I know, but they make wonderful gifts and can always be passed along from friend to friend after you're done.  Do check out their website here.
And guys, I would love for you to leave your comments on my website – thanks!