I left Denver at 6:00am on a cold, dreary morning…
When my plane landed several hours later I entered the sun-filled, compact airport in Fort Myers where my friend Cathy Scalzo was waiting for me! She was aglow with sun-bronzed skin, dressed all in filmy white and a delicate layered necklace adorned with tiny scattered diamonds. Her warm greeting set the scene for what I knew would be a memorable six day visit. 
We then traveled the 45 minute drive to Naples, Florida, in her Audi convertible. As we drew closer to our destination, we were amidst rows and rows of palm trees, lush dark green hedges, purple & pink Bougainvillea tamed into orderly bunches, as were all the groomed colorful flower beds! Ornate gates led to private entrances of hotels and estates. It was like another world.
Cathy and I caught up with one another chattering all the way. On our arrival, she introduced me to their 5th-story condominium right on the Gulf Bay with it's blue-green tranquil waters. The building itself is an architectural wonder with wrap-around balconies and its unique shape as you can see. There is no other like it.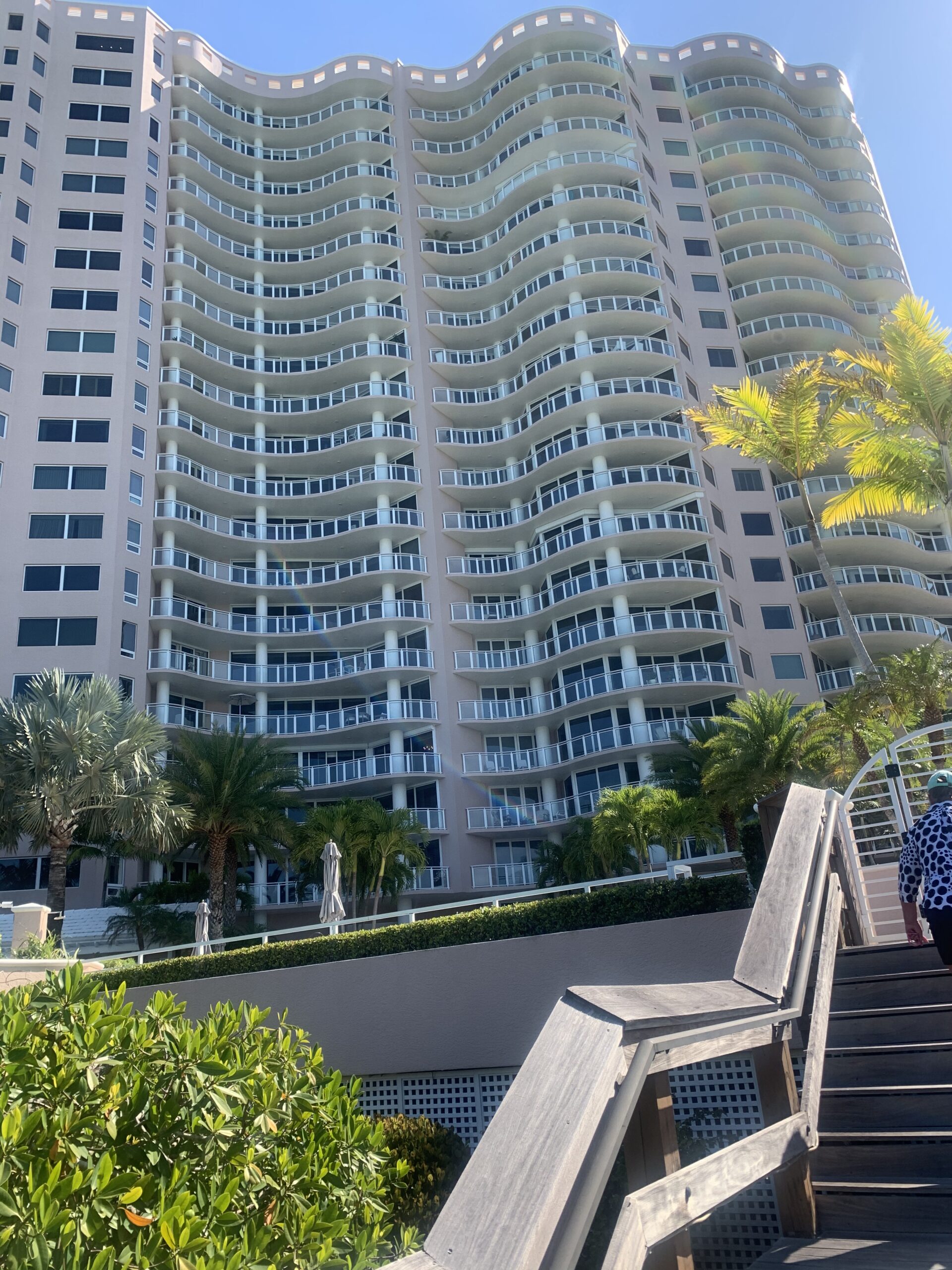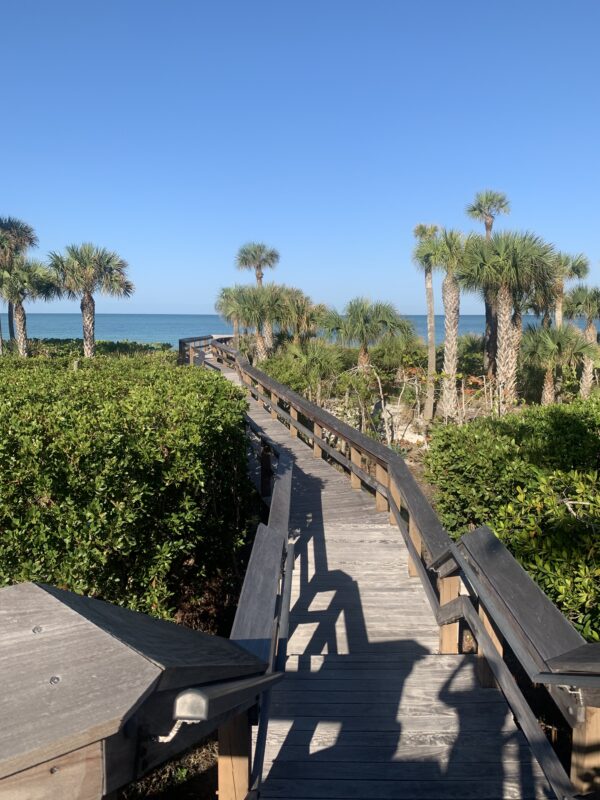 Cathy had furnished their condo exquisitely in soft neutral colors accented with accessories and art pieces (some we had chosen together in the past) all in shades of her favorite turquoise hue. 
I was given my choice of guest rooms and chose one which delighted me as it really was a mini suite with its own full bath that had cut-out windows framing the blue sky and water beyond. But even better than that was my very own private balcony complete with a lounging chair and sweeping views! It took me awhile to realize that because of the buildings unusual shape I would be able to see the sun rise in the early morning and still be able later to enjoy watching the sun setting into the sea with my hosts on their much larger wrap-around balcony at cocktail  hour. This was my morning view.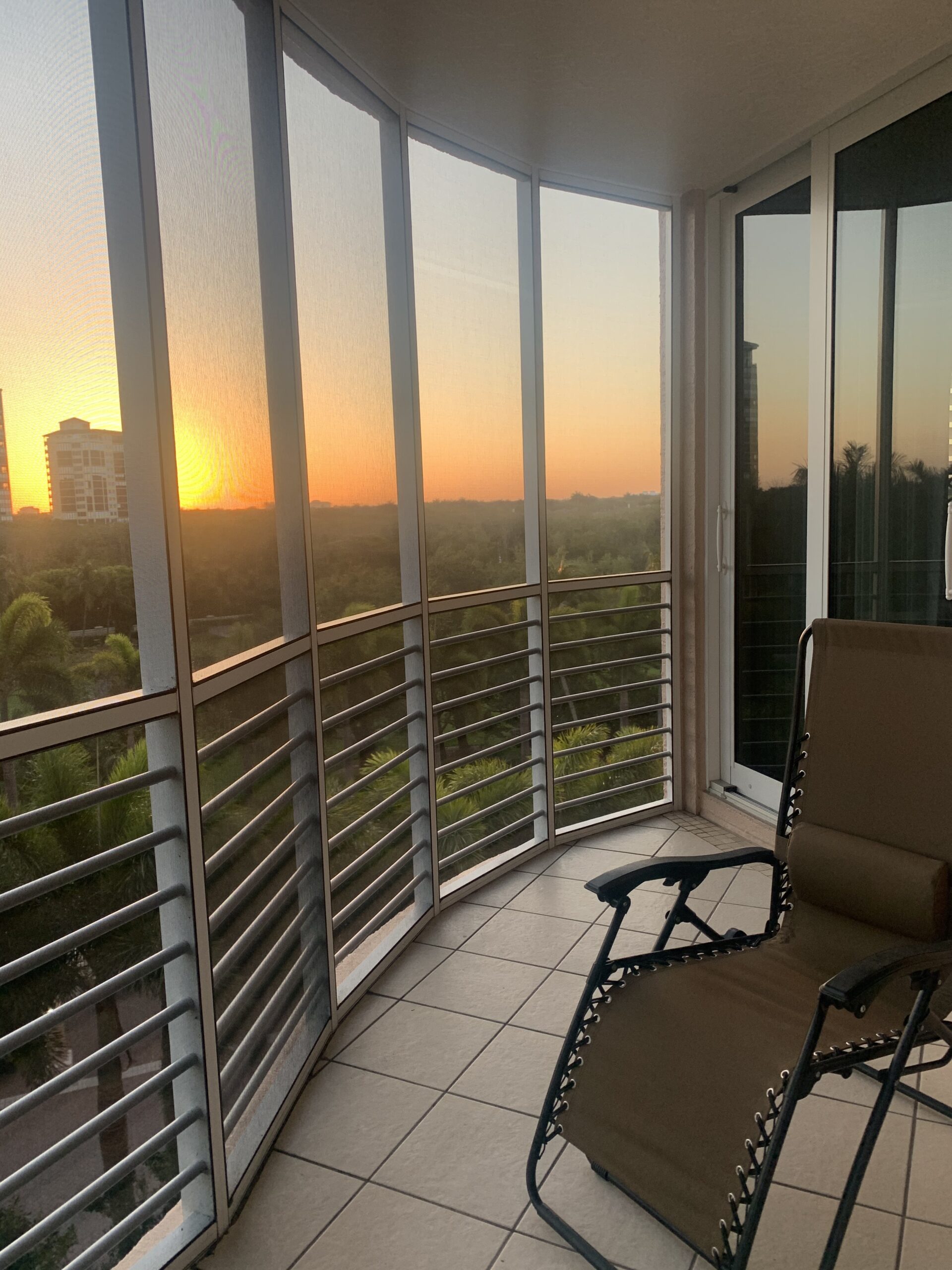 It truly became one of my greatest joys of the trip – watching a peaceful sunrise all alone from my bedroom when I woke up, and then, at the end of another beautiful day, having drinks with my hosts at sunset, watching breathtaking color flood the sea! 
The sweeping view of sea and white sand beach, sail boats on the horizon and occasional people on paddle boards or jet skis skimming the gentle waves was truly awesome! If we were lucky a flock of Pelicans would fly by. And always we were surrounded by the sound of the large fountain below us with its calming and rhythmic beat in tune with the swaying palm trees. Heavenly!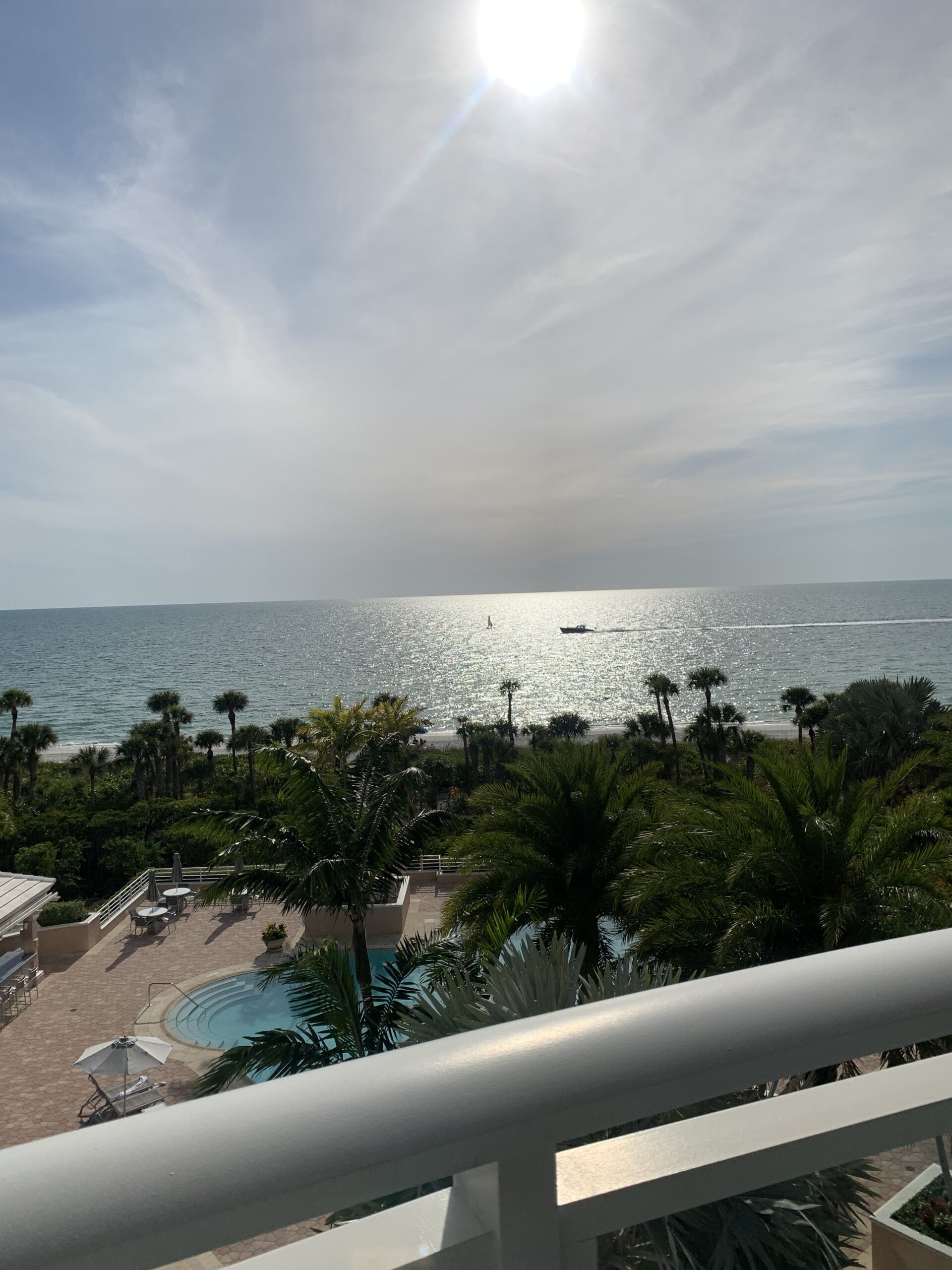 The Pelicans overhead…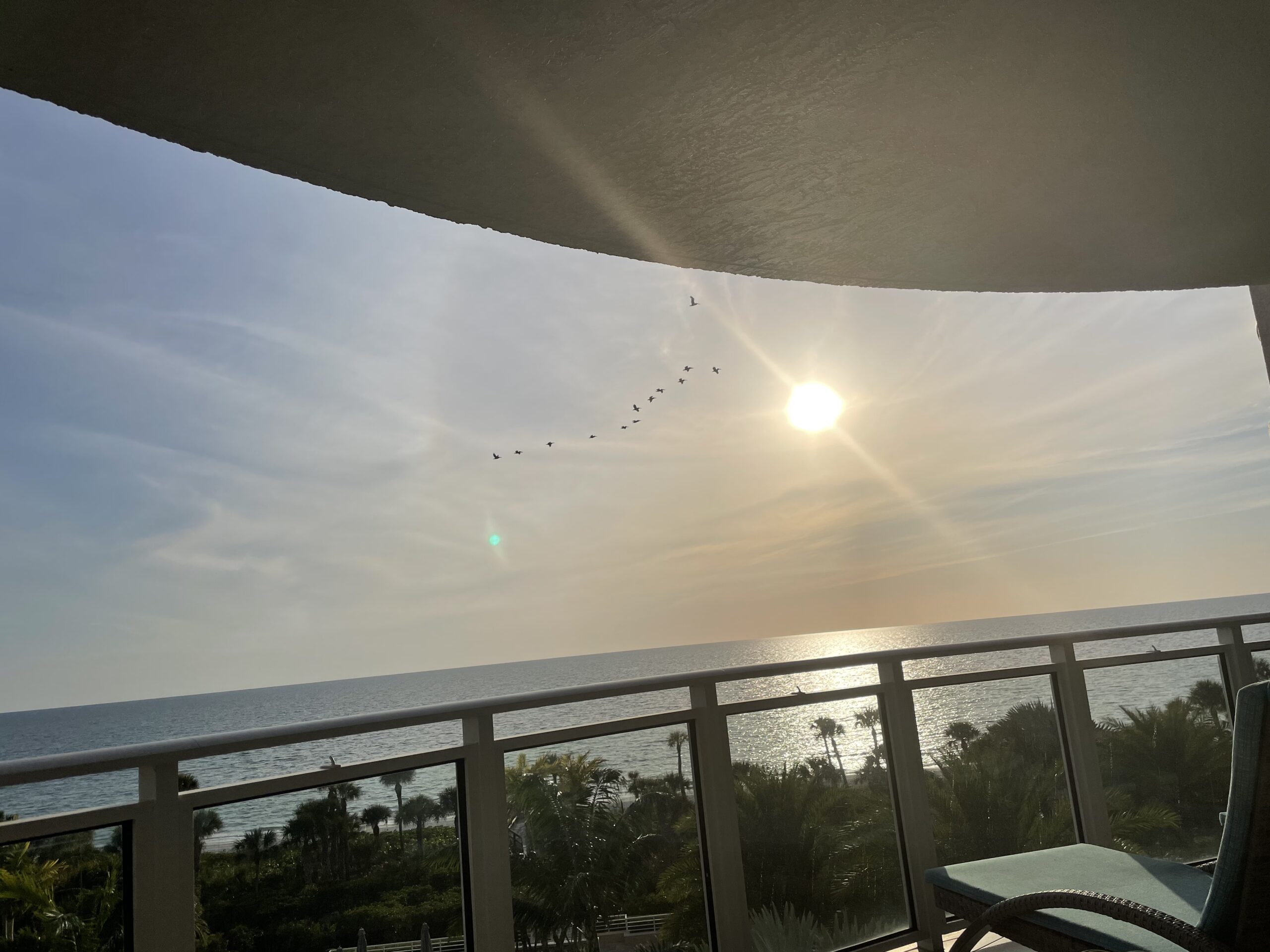 Each day we found time to enjoy the sunshine at the beach with the rolling waves or at the pool relishing the warmth and lazing about on our float boards.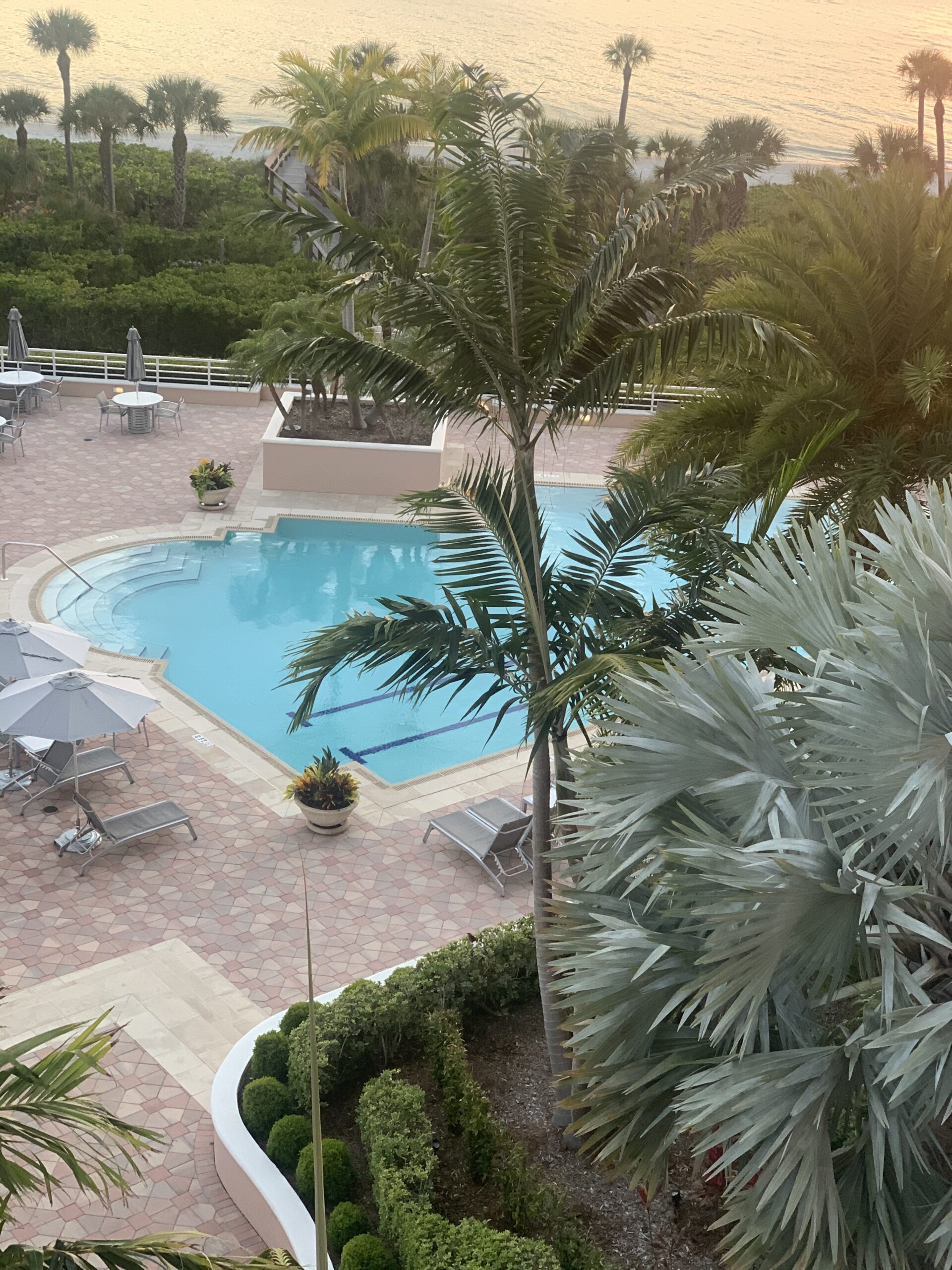 But we had a time-out for lunch at a charming local restaurant by the water. Cathy introduced me to her good friend who also has a winter residence there and to the wonderful shops which seemed everywhere. I should mention that all complied with the wearing of masks and took it seriously. We went to restaurants in the evenings as well.  One particular night, Joe, Cathy's husband, treated us to a delicious Italian dinner and selected a yummy Chianti for us to toast with and enjoy! A delightful evening.
I walked the beach everyday along the shoreline, dipping my toes  into the ebbing waves. There was a plethora of tiny shells to examine and also good people-watching as once in awhile someone would pass me strolling in the opposite direction.  One of the neighbors along the beach is the five-star Ritz Carlton Hotel with all their matching umbrellas and chairs lined up for their guests.  I loved these walks, the ocean breeze, the isolation, the beauty of it all.  How lucky am I to have such friends that invite me to share in this fabulous lifestyle!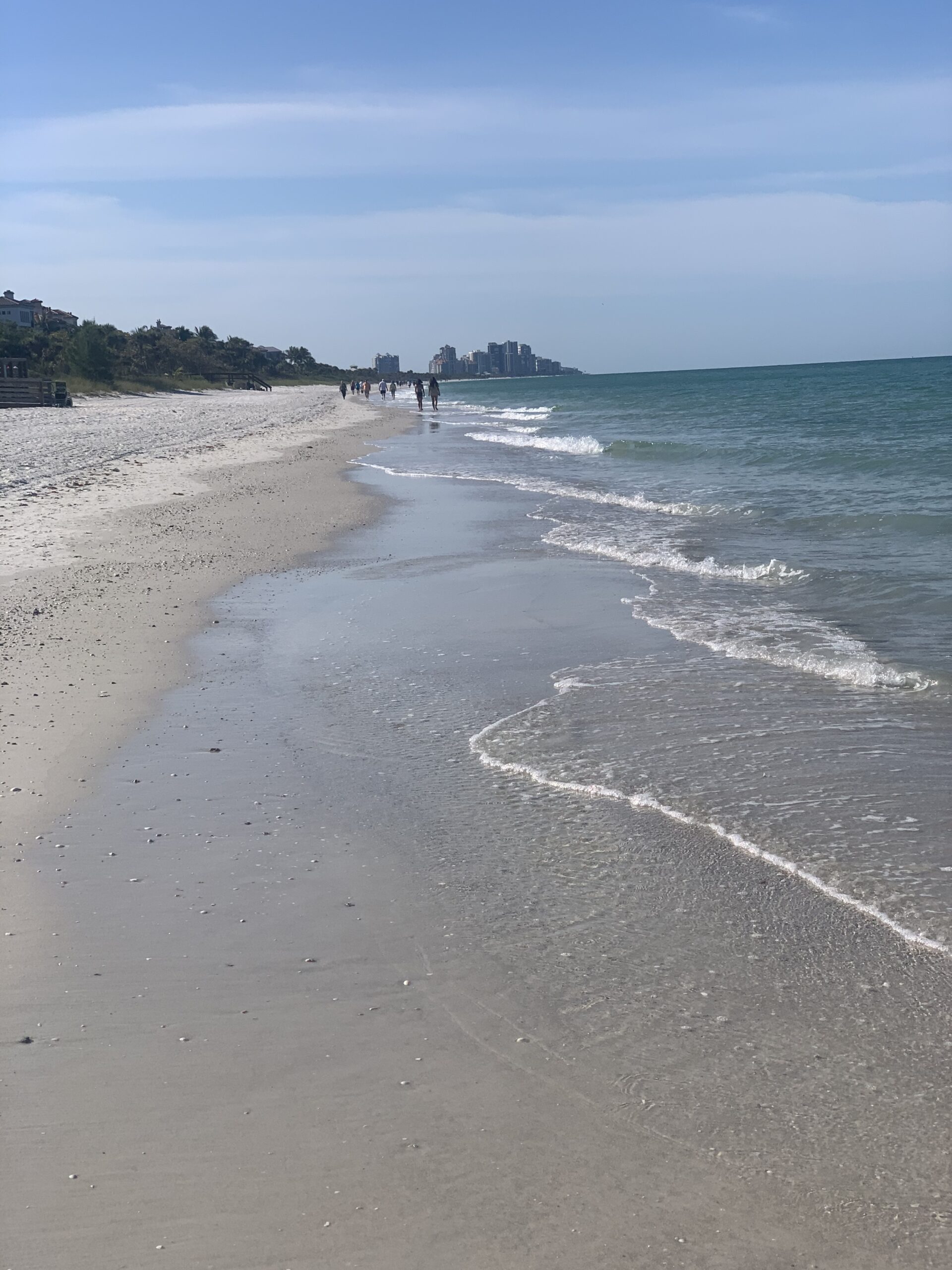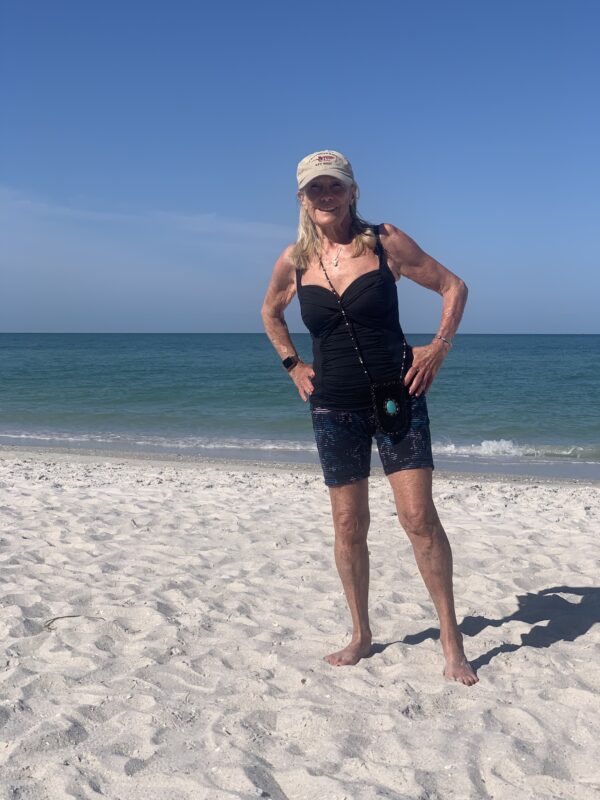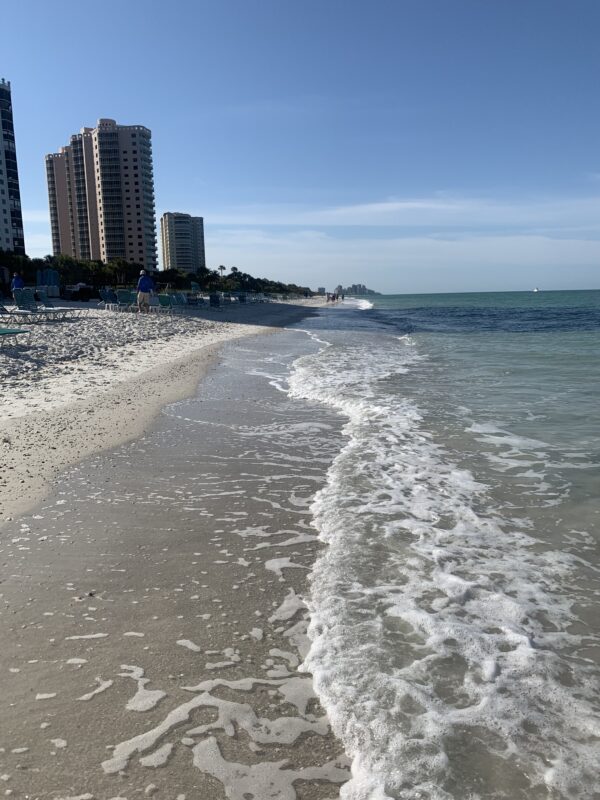 On my last night, we celebrated Cathy's birthday at a very special restaurant with a cobblestone entry and tables lit with candlelight situated outdoors among the trees. The food was out-of-this-world delicious. Cathy looked so lovely and the setting was so gorgeous. I only wished I had taken her picture for this blog.  Here's a casual pic from our time in the sun. I can never thank her and Joe enough for this dream vacation.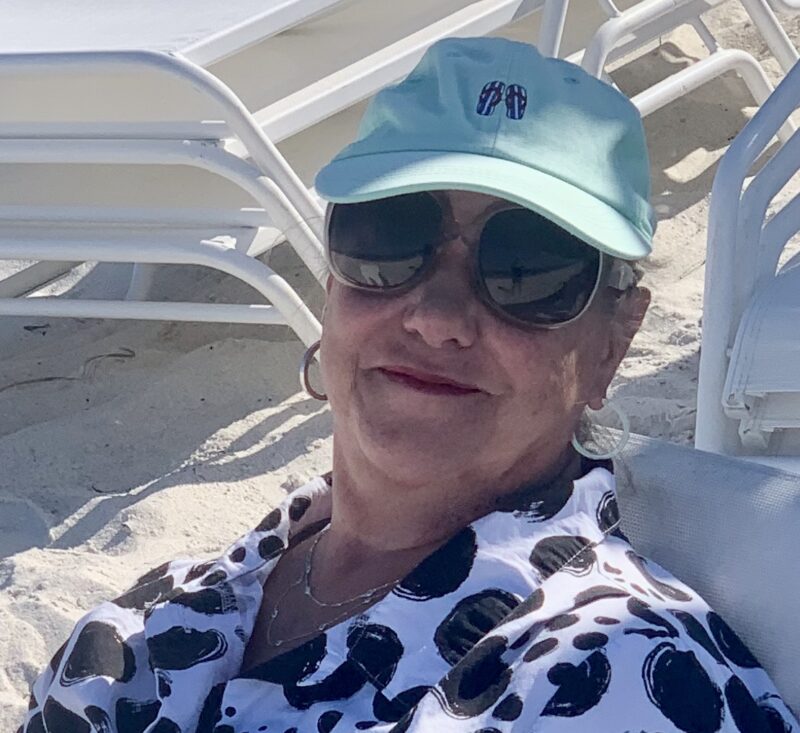 What a gift after a year of COVID quarantine…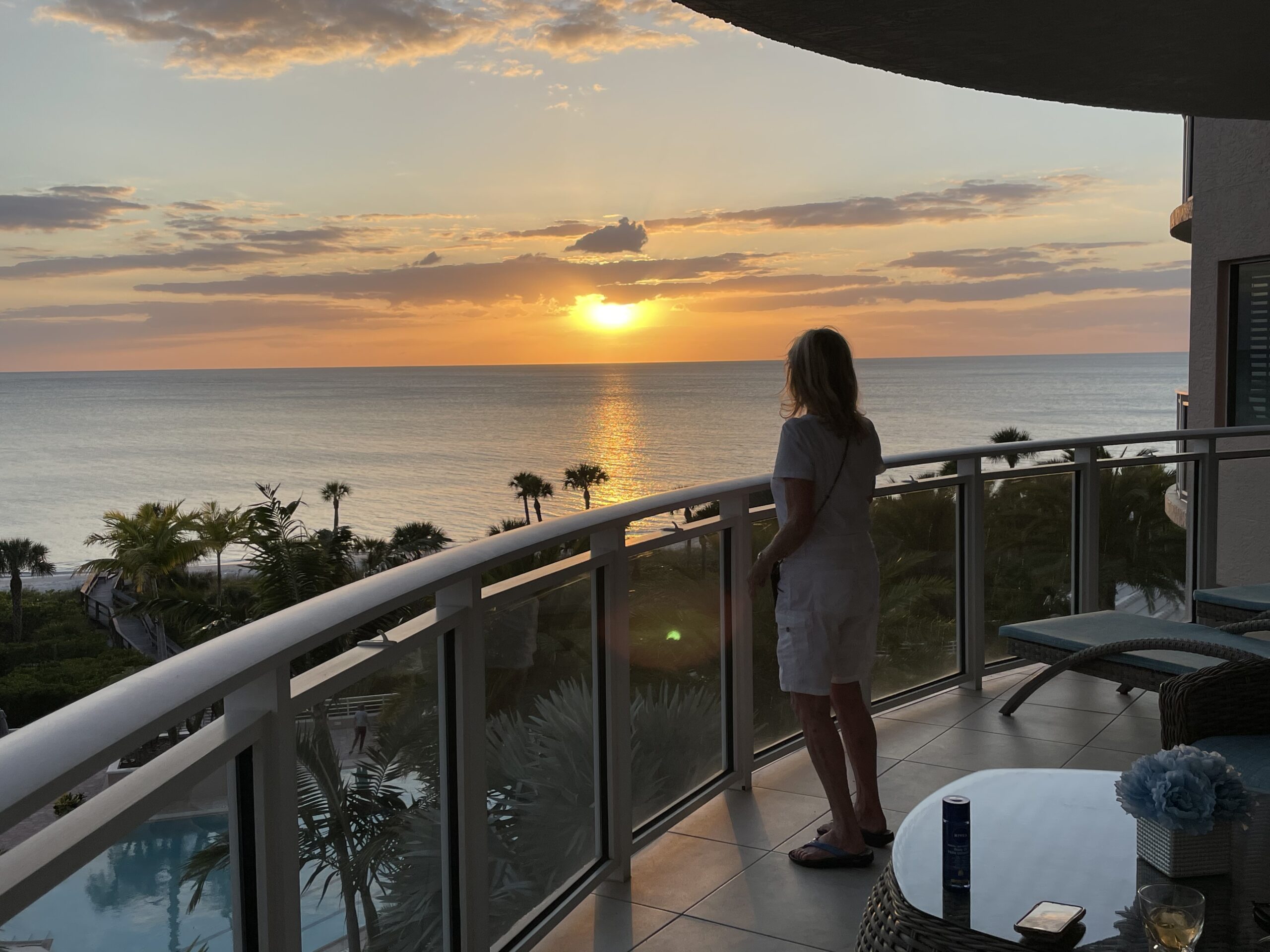 Sadly, this is what I returned to – back to reality in snowy Denver!