On this day fourteen years ago, the doors closed on a magical place and period of time.
At the time, The Denver Post printed this cartoon and it says it all!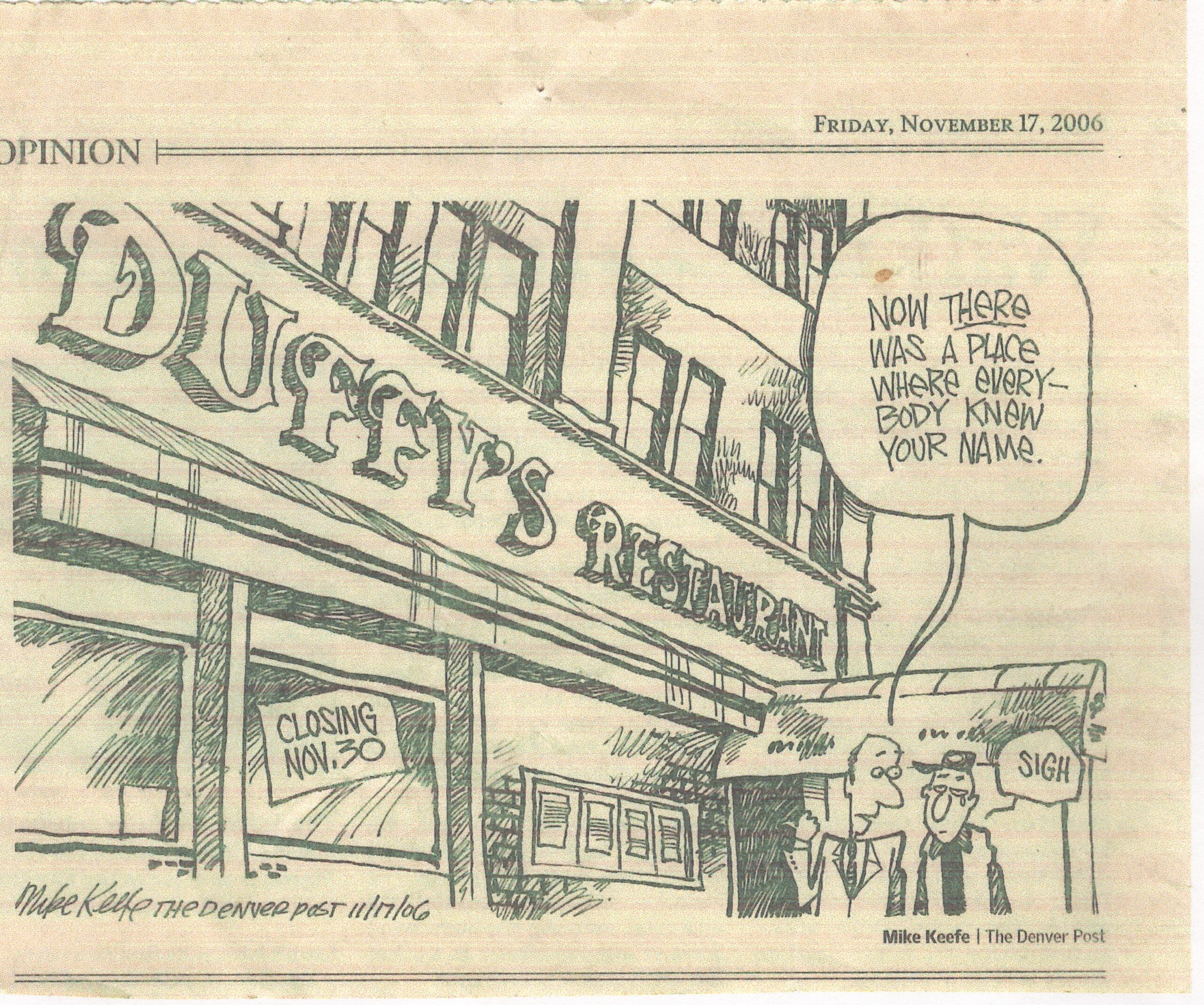 To my husband Burt and I, as well as hundreds of Duffy's regulars, it was a very sad day and the end of an era.
Duffy's Shamrock Bar & Restaurant (so "Irish" it was swarmed on St. Patrick's Day) was actually owned by the very Italian Lombardi Brothers, Kenny and Frank, carrying on a tradition established by their late father. Their ability to serve a multitude of cheap hot meals minutes after customers sat down was legendary.  It created an atmosphere of comfort food and cheer that attracted an unbelievably diverse crowd of characters: cops and construction workers bumping elbows with lawyers and stockbrokers, along with the office crowd young and old, gritty downtown dwellers and tony out-of-town visitors…all dropping in and feeling instantly at home there. It even hosted most of the after-hours restaurant employees in the city with a late night happy hour!
One of the Lombardis' secrets was building a loyal family of employees with almost no turnover. Gary Bloom was the steadfast Manager for many years, and the Naffah Brothers – another Gary, and Johnny – with their colorful Boston personalities and accents, were unbeatable as bartenders! (Even if you had been there only once, they would somehow remember your exact drink preferences) Gary Naffah would later become a much-loved Manager himself. And I have to mention Mavis the waitress, who they must have modeled "Flo" after, a brassy hard-core dame with a soft heart. She was something else. She became very fond of my husband Burt, and I will never forgot when she took me aside one day and told me that he was always a perfect gentlemen and I should be proud of him!
It was a terrific loss and cause of great sadness when Gary Naffah died suddenly from an aneurysm.  I am re-printing the article printed in the Rocky Mountain News for you to read because I could not describe him better.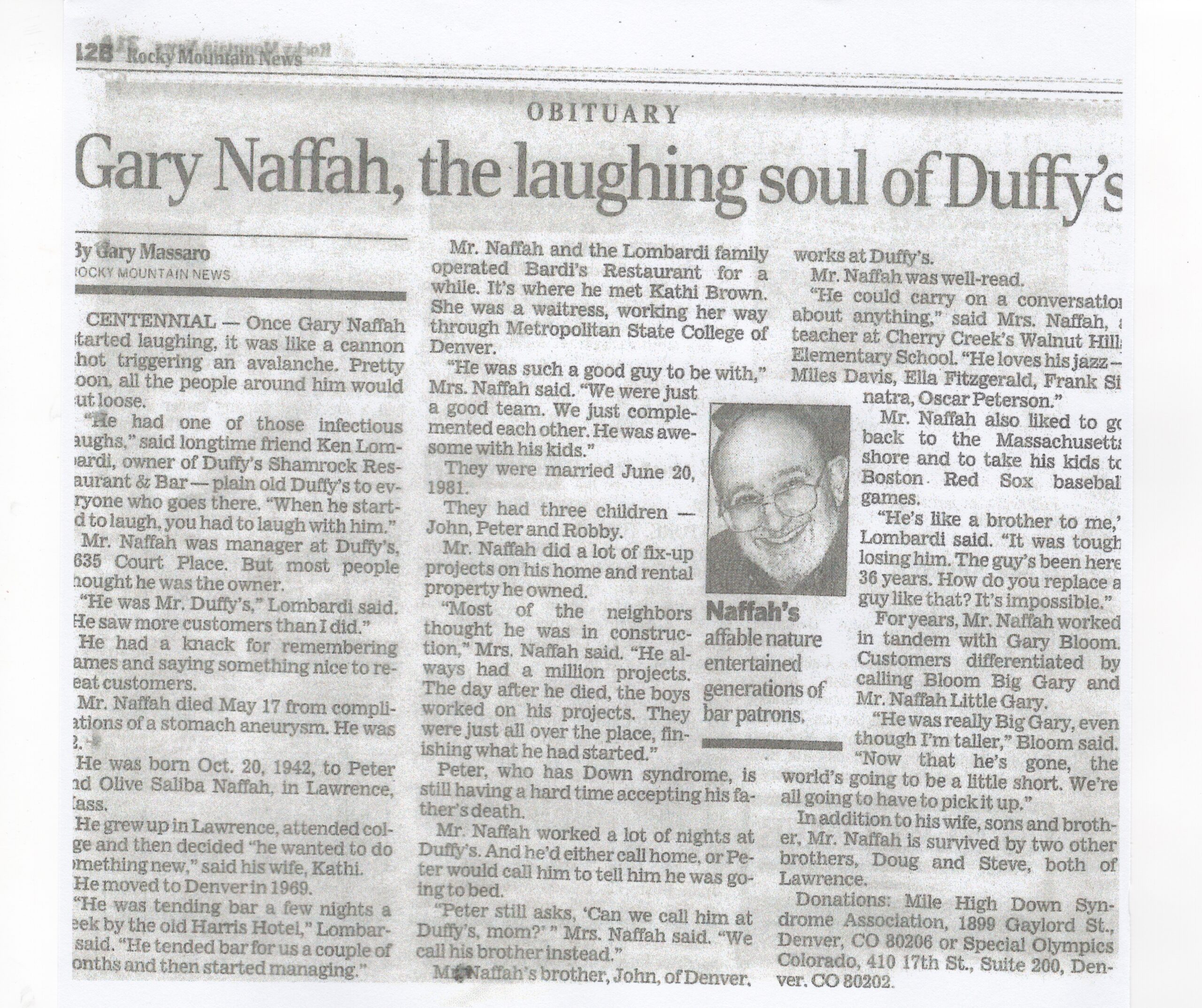 I have to add that Gary's Celebration of Life, complete with wonderful jazz selections from Ella Fitzgerald and Louis Armstrong, was the best service and tribute to someone I have ever attended.
The picture below is of all four Naffah brothers (the two in suits were Gary and Johnny) and you will note where the continued celebration took place.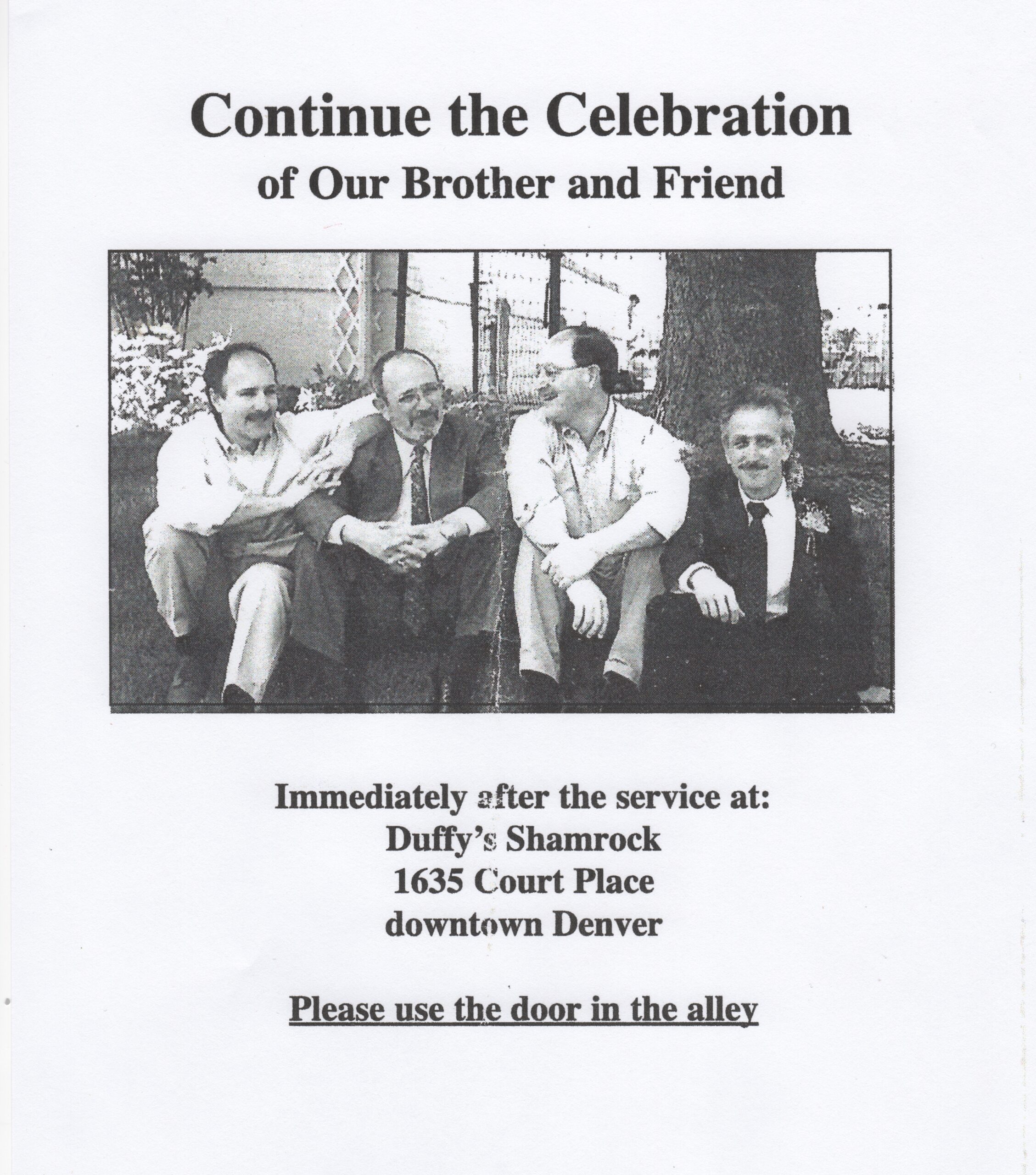 Here is another picture, taken not after Gary's service, but just before Duffy's closing, when we all gathered there together for one last celebration. Burt and I are dancing and to the right of us is Kenny's lovely daughter, Kerri, who has since become a Judge here in Denver.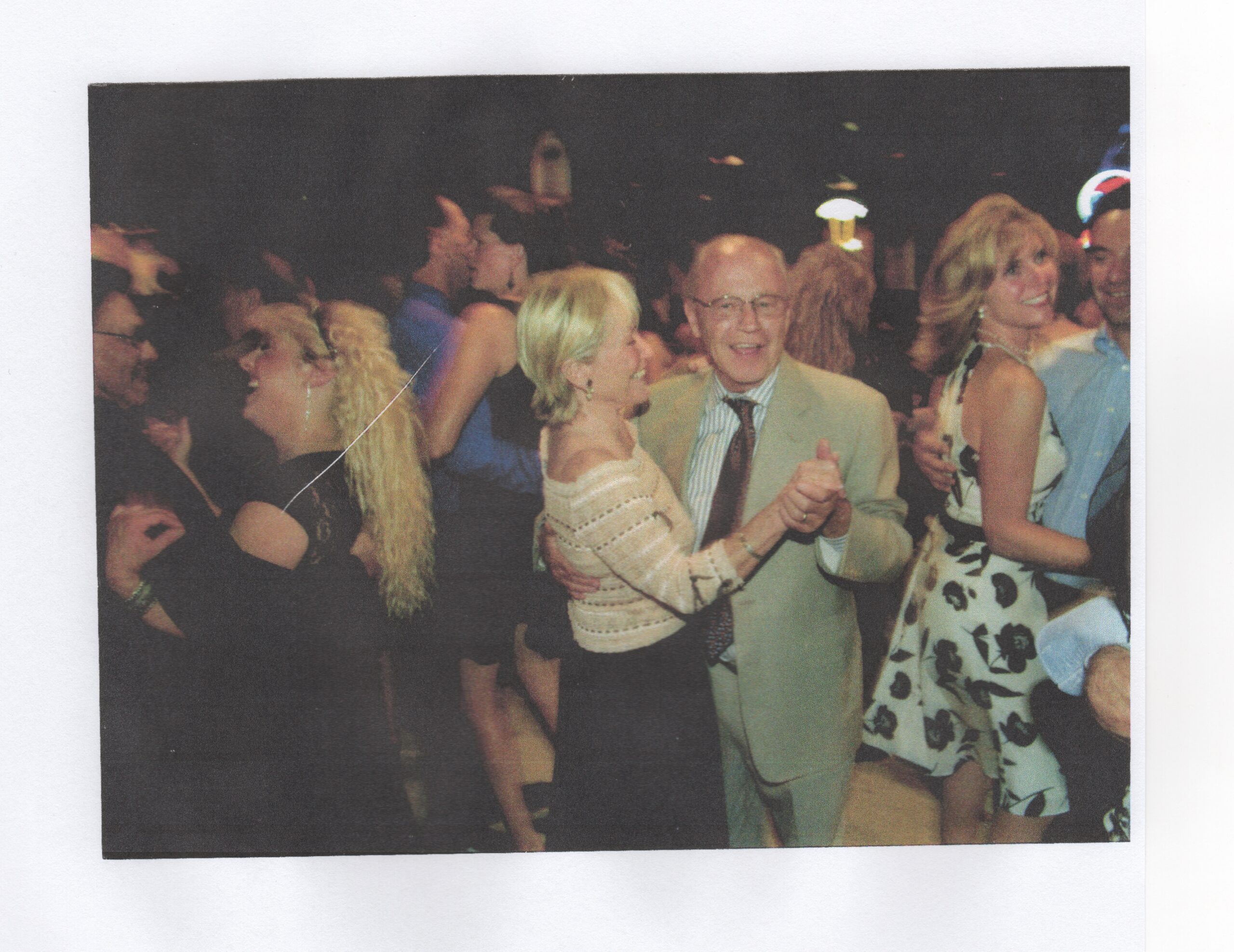 As a little addendum to my blog about Duffy's, I want to share a memory of Burt…
You see, just before his long-history of heart disease caused his retirement, he was the Office Manager for Stanford & Company, which occupied the entire 37th floor of the Wells Fargo Center (more commonly known as the iconic "Cash Register Building") with a stunning view of downtown Denver; but when he had to quit because of his health, he moved into a tiny office above Duffy's along with his six foot Pontiac Indian, his Juke Box and all his memorabilia, where the window looked out on a brick wall! And he LOVED it there!! He could not have been happier having a single stuffy room above his favorite bar. I found this very endearing and very true to why he was my Burt.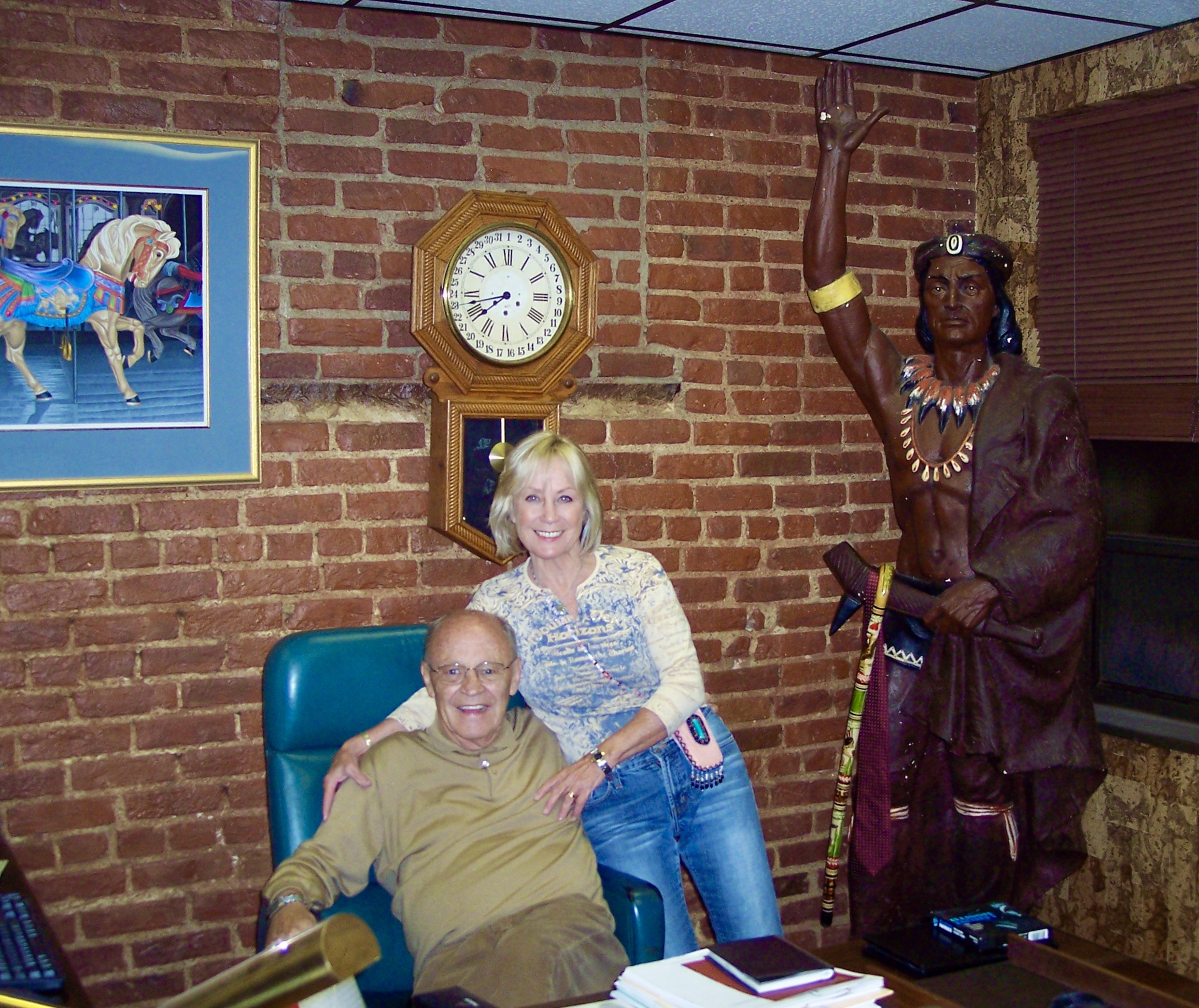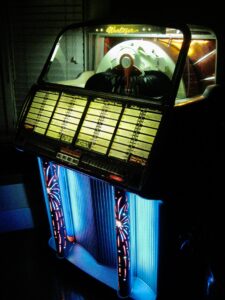 He was such a fixture at Duffy's over the years, sitting at the end of the long bar reading his newspaper, that the acclaimed artist, Robert Spooner, actually painted him doing just that:
Below is the painting that our son, Frank, purchased for us!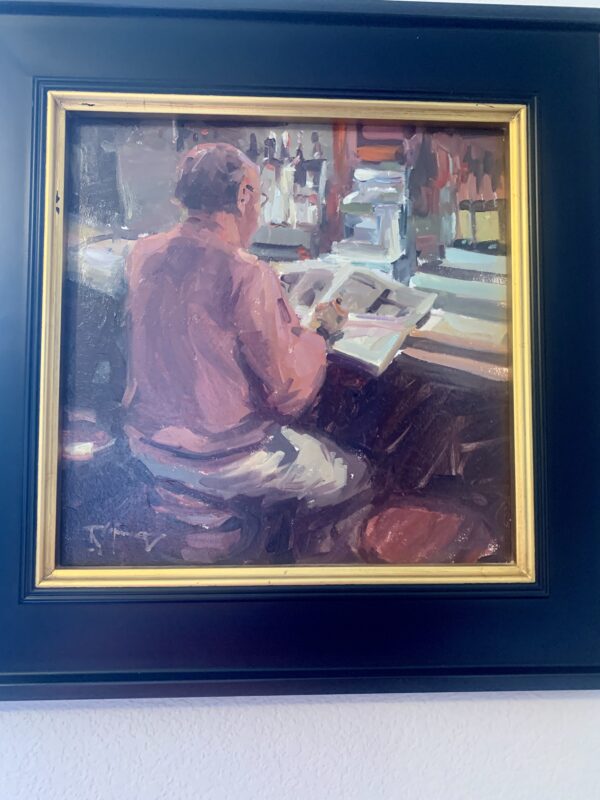 And just because this epitomizes those fun-filled days, I am including this picture of us and our good friends Terrie and Kenny Lombardi dressed up in western gear for a photo session during a trip to Estes Park.
Please feel free to share your memories of this very special place and time!