"I'll be back to tell you more"…  
Those were the last words I wrote before going into surgery almost two weeks ago.
I can't tell you how happy I am to keep that rather glib and simple promise…
The good news is the surgery seems to have been a success – my neck pain is gone!  YAY!  The bad news is it triggered one of the worst hospital ordeals of my life.  Uhm…yay?
Dr. Shogan fused together four of my discs and said the surgery went smoothly and exactly to plan – he was very happy with the results.  But afterwards, when they were waking me up from the anesthesia, my throat had some kind of reaction to the sedative or the procedure – we still don't know which – and began to swell up, making it hard for me to breathe.  It quickly went from concerning to an emergency situation.  They had to rush me to the ICU and after three failed attempts, with no time to spare, managed to intubate me and keep me breathing with the help of a ventilator.  From what I understand, I easily could have "kicked it" right there.  Then the big worry became whether I had suffered any effects of oxygen deprivation such as brain damage, paralysis, or a heart attack.
Check, check, check – None of the above.  Thank God.
But I would end up spending the rest of the week in ICU!  They put a tube in my stomach as well and kept me heavily sedated for the next 24 hours.  This was the hardest time for my son Frank, who stayed on a cot in the room overnight with me and says there were several times during that long night when my vital signs began dipping dangerously low.  When I finally began to awake, in a drug haze, unable to speak, I would scribble urgent messages on a pad – which he says made absolutely no sense at all…haha.
I kept telling him I was having deja vu!  It was scary.
(Nobody waving me toward or away from "The Light" though, as far as I can remember)
The next day when I stabilized and became fully conscious, a whole team of doctors and nurses came in to extubate me (take the tube out), and I only wished that I was unconscious again!!  I should have known being surrounded by that many medical professionals never bodes well for what's to come.  It was, without a doubt, the most excruciating pain I have ever experienced.  It beat out even a nasty bout with shingles years ago.  I'm not embarrassed to say I screamed and cried.  But with the tube out, I was breathing on my own…
The surgery alone can affect a person's voice, but the violent trauma of the intubation had left my mouth and throat even more beat up and raw.  I spoke in a raspy whisper, could barely swallow and still had to cough up all the junk in my esophagus and lungs.  My lips were cut and bloody – when I saw myself in the mirror my first thought was that I looked like The Joker from Batman – and I had huge bruises on my chest from where they leaned on me.
I really did look like I had been hit by a Semi truck!
But I made it through and kept improving a little every day.  Eventually I was doing so well they moved me to the orthopedic wing; but my oxygen immediately started crashing again and they moved me right back to the ICU!  Both Dr. Shogan and my regular GP, Dr. Goldsmith, were still worried enough (and confused – how did such an "easy"  procedure end up like this?) to keep me under close watch from then on.  I may be the only person to spend their entire recovery time in the ICU.  Eating Jello and watching old melodramas on Turner Classic Movies…and crying.  I find my emotions are so close to the surface now, I get choked up at every story on the news.  Maybe there's nothing wrong with that.
The nurses, almost to a person, were absolutely amazing, and treated me with such care and warmth.  They kept telling me how good I looked for 82 (??!), and complimenting my nails and eyelashes, LOL.  I had to remind myself most of their patients were in even worse shape.  Male and female alike, are there any greater people than nurses?  God bless them.
An avalanche of good wishes and loving support by texts, emails and cards cheered me on the whole time as well, and Frank was by my side throughout.  I kept holding out my hand for him to hold it.  Just the warmth of his hand brought such pleasure to me.  Whenever I began to get down or frustrated, he would ask me to grip his fingers and he would tell me how strong I was, that I was one tough lady and I was going to be fine.  These are the little things that get us through our darkest moments.  That human touch and connection.
My niece, Pamela, came and stayed with me the first days of my return home and was a huge help when I was at my weakest – I can't thank her enough.
I have dubbed this my "My 10th comeback" – but in reality, at this point, I should probably say my Zillionth!  Luck of the Irish, I guess.   🙂
No more surgeries though…  I've had enough of that, thank you.
I have weeks to go with the neck brace, I'm still getting my eating/swallowing back to where it should be, and my lungs back up to full capacity, but overall, I feel pretty good.  No more pain pills.  And lots of time to sit around and watch old movies…
And cry as much as I want.  It's a good thing.
*                   *
These beautiful flowers from friends have helped my recovery!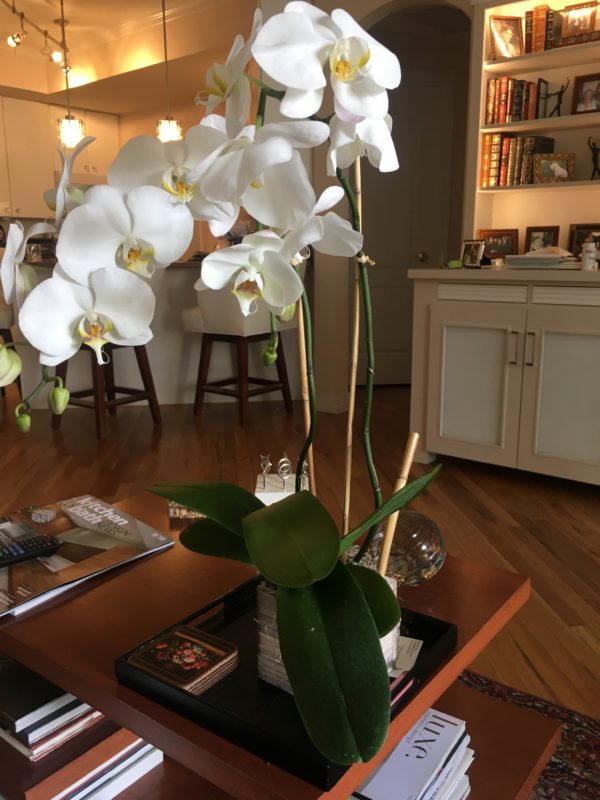 …Beautiful orchids from Dennis & Teri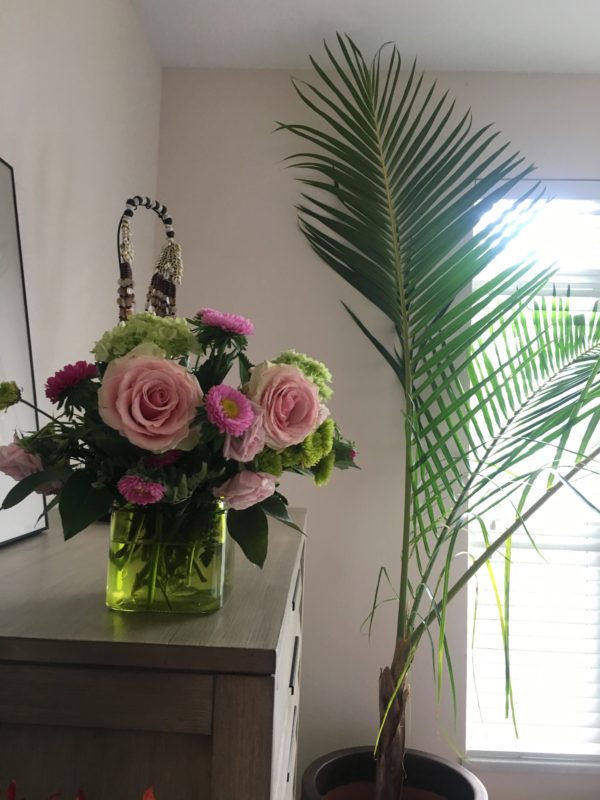 …A bouquet of pink roses from Mary Elizabeth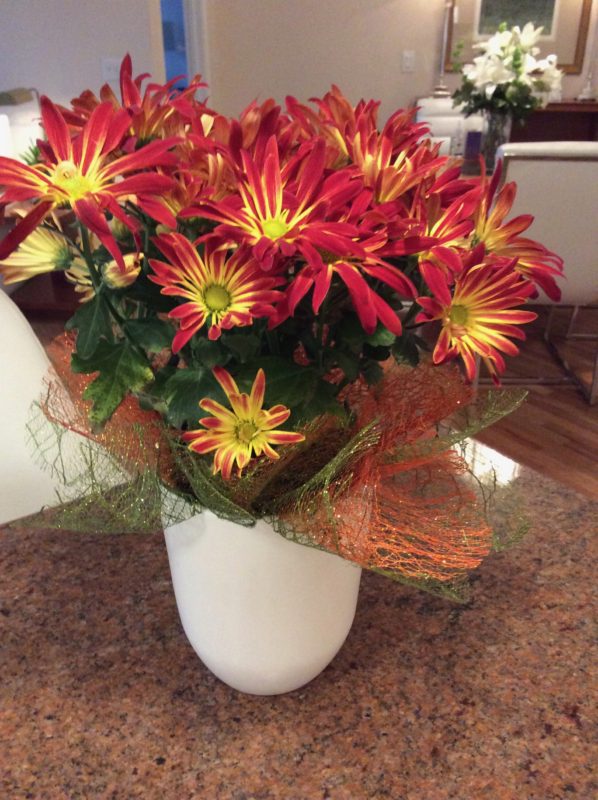 These from Tommie Kadotani…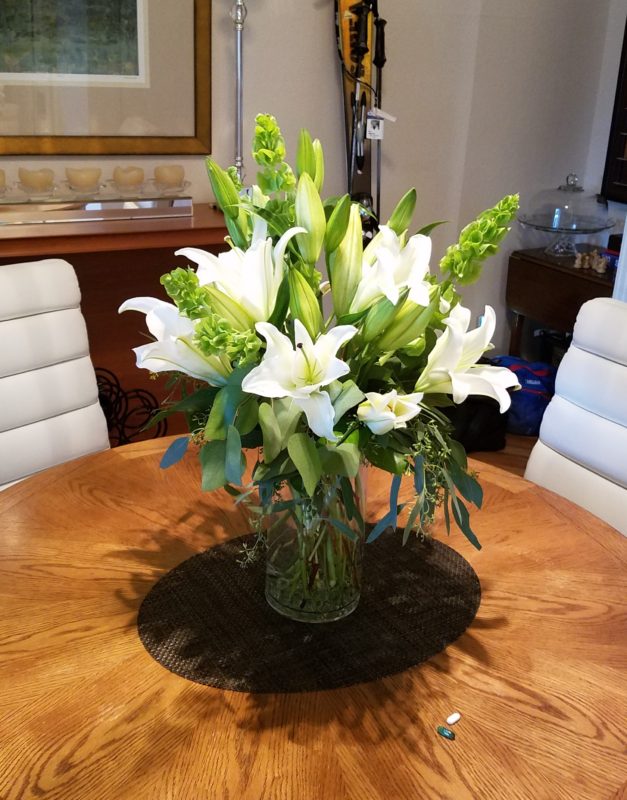 …And gorgeous Casablanca Lillies (my favorite!) from Lou Jahde.
How lucky am I to have people who care – and worry – about me at a time like this?
Glad I didn't kick it.
Kari