This is…  Well, my 82nd, actually.
I turned 82 years old last week.  Gulp.
The only appropriate reaction to a number like that is disbelief, amused surrender…  And to say damn it all and celebrate!
It called for something truly special.  So to mark the occasion, the three of us – my gentleman friend Lou Jahde and I, and my son Frank – celebrated my birthday with a stay at The Broadmoor Hotel in Colorado Springs.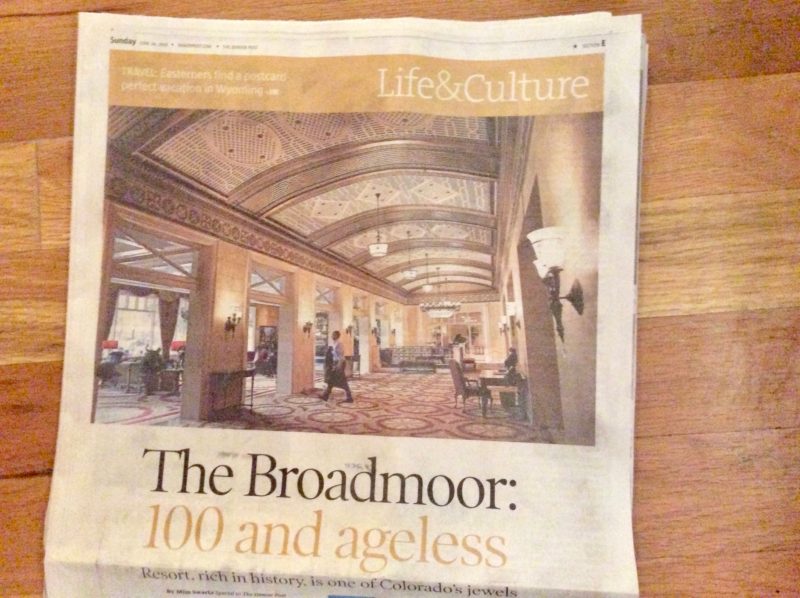 If you've never heard of The Broadmoor, the Denver Post recently published a fascinating article about it here.  It is a world-famous resort with a long and colorful history.  It opened in June 1918 and just celebrated its 100th Anniversary (older than me – thank god).  It's difficult to imagine a more glamorous hotel.  But as the writer of the article so aptly puts it, "To call The Broadmoor a hotel is like calling the Taj Mahal a building…visitors could easily imagine they are at Lake Lucerne in Switzerland or Lake Como in Italy."  Having been to both those places and reveled in their beauty, I have to say the comparison is not just hyperbole.  The semi-circle of pink stucco classic Italianate buildings surround a small lake at the base of Cheyenne Mountain – the view is gorgeous, and very relaxing.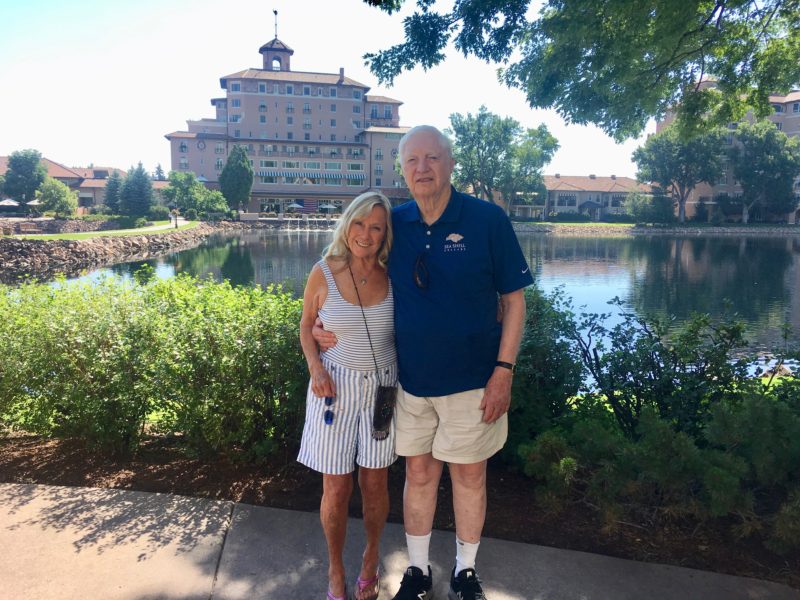 Inside, you could wander around for hours admiring the elegance and style of this 5 Star 779-room hotel!  Lou and I had both been there on separate occasions decades ago but Frank was seeing it for the first time.  And the very best time.  Credit for that goes to Philip Anschutz, Colorado's most notable billionaire.  As he tells it,  he started coming to The Broadmoor with his family when he was only five years old.  At the age of 10 he told his parents he was going to buy the hotel.  And in 2011, he did just that, and has spent an estimated 600 million on renovations and expansions.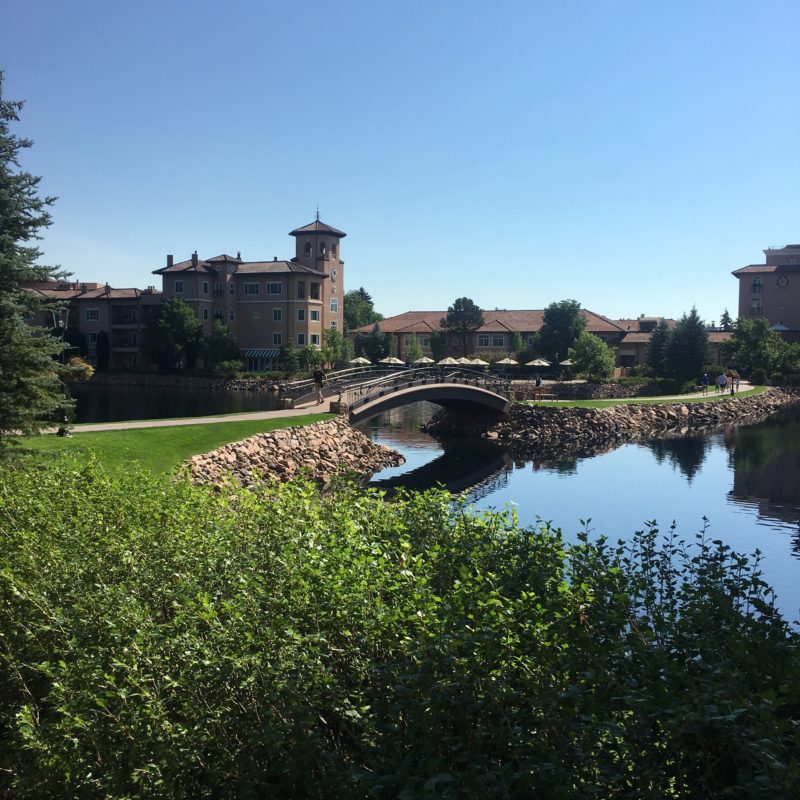 It's all self-enclosed, you never need or want to leave the grounds.
Besides the 10 restaurants and many shops, there is a world-class golf course and spa, a movie theatre, tennis courts, swimming pools and a bowling alley!  For the more adventurous, they arrange rock climbing, have a zip line and hiking trails, etc.  There are several tours.  The one we chose was to see The Seven Falls (waterfalls).  It was every bit worth our time – even in extreme heat.  And when we were done our ride back to the hotel was right there.  The service was incredible all around.  We could not get over the diverse nationalities of the staff.  They come from all over the world (Poland, Jamaica, Italy) to work there – the number of accents was dizzying – and are very warm and friendly.
That sophisticated, cosmopolitan feel, so incongruous in Colorado Springs, was exactly the reason Spencer Penrose built it!  A bon vivant who made his millions in gold mines and copper, he wanted to impress his snobbish East Coast friends who thought of the West as a wasteland.  He hired the same architectural firm who had just completed New York's Grand Central Station to build the hotel, and the landscapers who designed Central Park to lay out the grounds.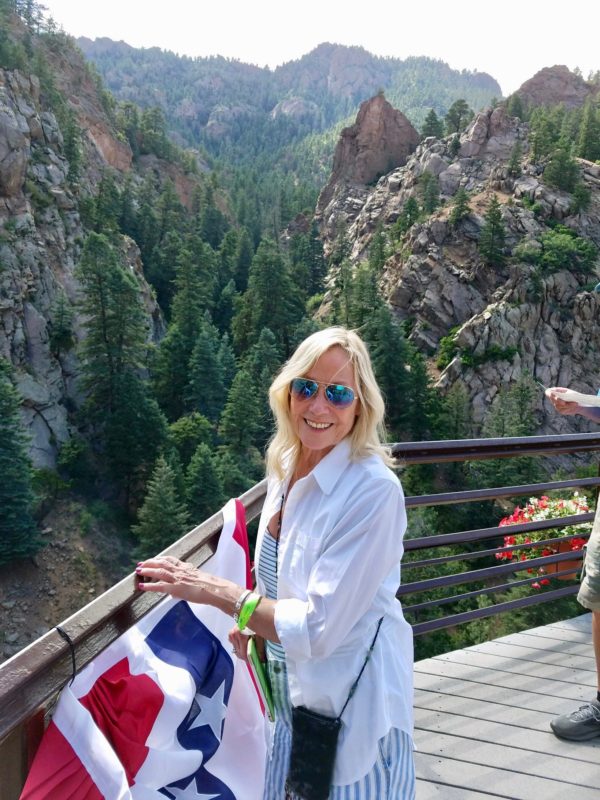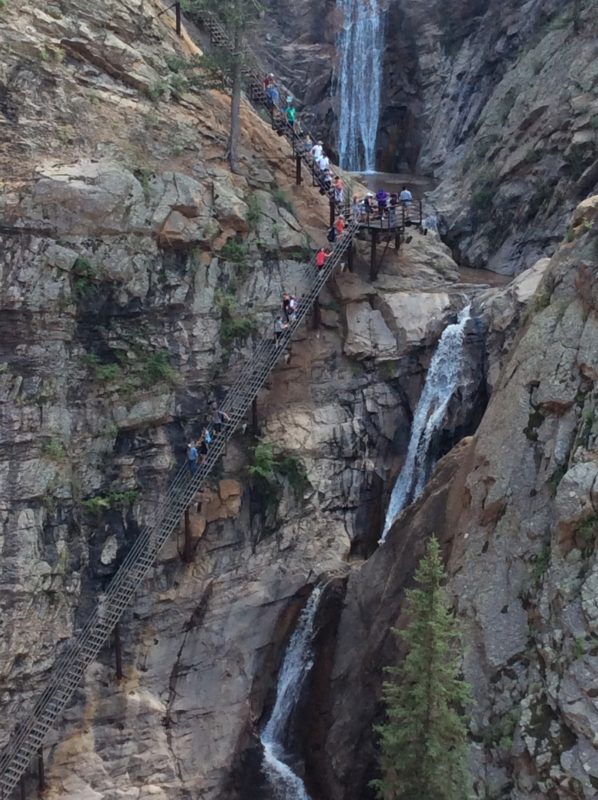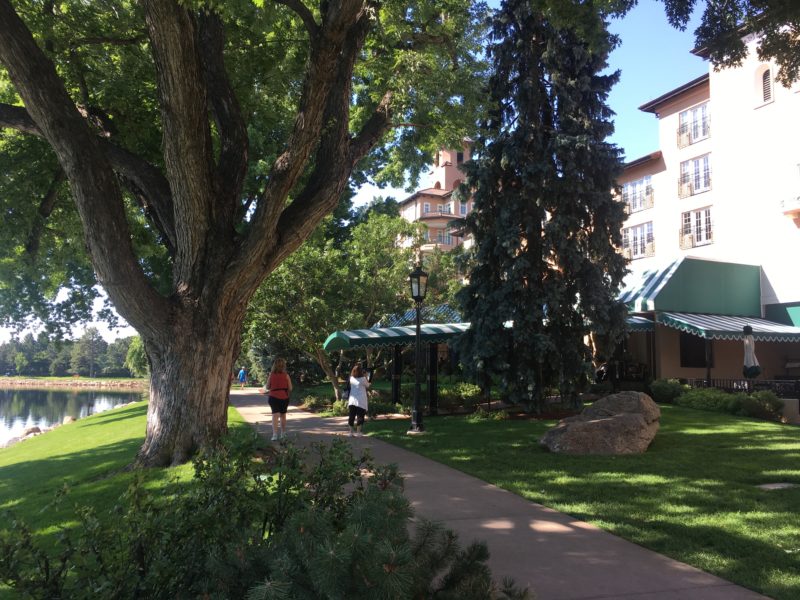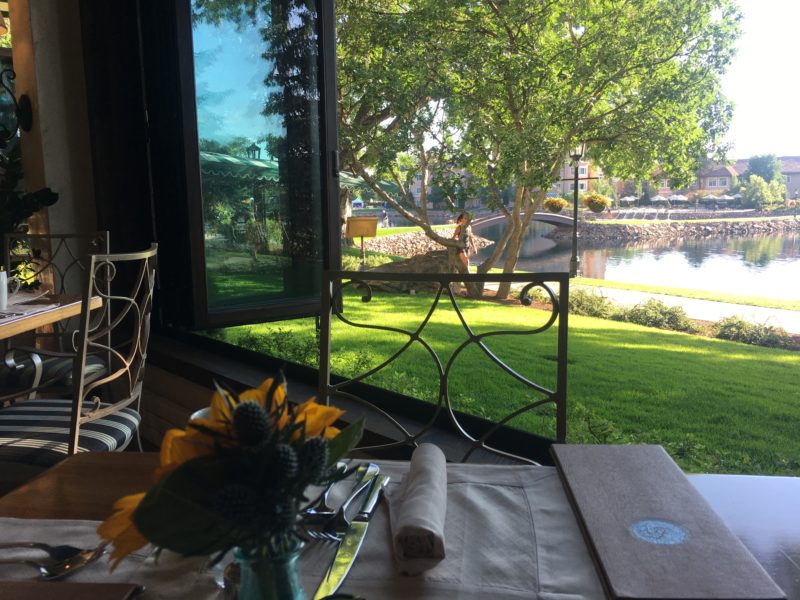 But, to be honest, with all the hustle and bustle of the place in its peak season, our favorite moments were when we did very little at all.  We took slow walks around the lake.  People-watched.  Dog-watched – the hotel is uniquely animal-friendly, guests can bring pets of all sizes and species.
And later in the day, after a session at the swimming pool, we would meet in the courtyard, commandeer an inviting shaded table, order cocktails and sliders…and just play chess.
It was a bit of heaven.  Just the perfect escape from everyday life.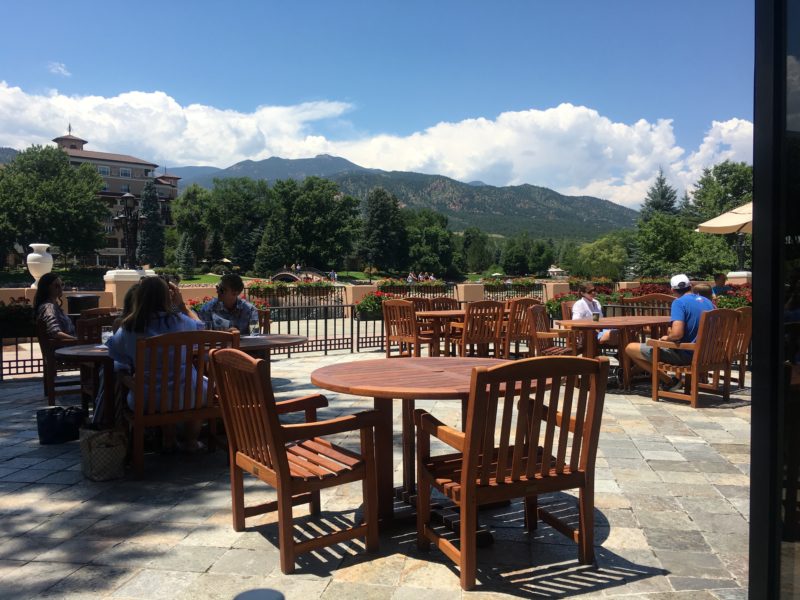 I sound like a commercial, I know – but see, I want to go back next year, and I'm hoping The Broadmoor will comp us!  😉
All jokes aside, I feel so fortunate to be living so fully at this age.
I'm so lucky to have a marvelous and inspirational partner like Lou with whom to enjoy all the finer things in life; and my son, Frank, who is always such fun company and keeps me young.  Then there are all my close friends, my design work, and my clients who have become great friends as well.  Although my family has sadly dwindled, I am even fortunate there too.  I have a California family and also a Port Huron family I inherited from my husband Burt – whose presence still looms large in my life and memory, as he was quite a guy.  And most importantly, I have my health.  A year ago this time I was in terrible pain with my shoulder problem and was just exhausted and depressed.  I'm living proof there can always be better days ahead.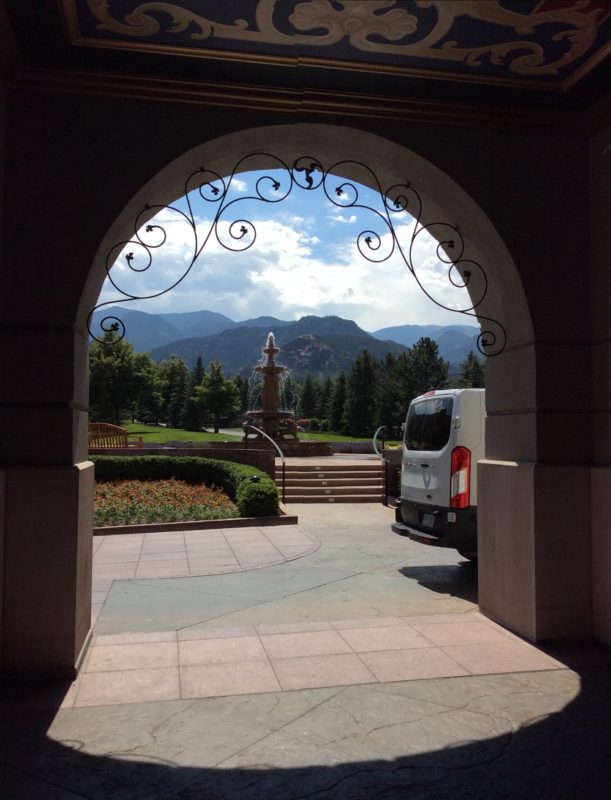 Lots and lots of life's blessings.  I can't complain.
This is why I wanted to write this blog.  I want all of you to have these small epiphanies where you count your blessings and feel as grateful as I do!  To enjoy your good health, look and feel your best and to never stop learning new things!
Or visiting exciting places, for that matter…
That's my birthday wish.
Kari