While I was out in Paso Robles, California, I read about a local art event that I knew I had to go see…and when I did, it blew my mind!
As you can see from these photos I took myself, it is a "Field Of Light" – an unbelievable array of colored lights spread out over a huge landscape (a privately-owned property called Sensorio), with all different colors in large segments creating a rotating rainbow of beautiful color!  What the photos do not capture, however, is how mystical and hypnotic it is to witness up close.  It feels almost disorienting, like you have traveled deep into Outer Space and are walking among some star-cluster or celestial body.  In the dark, ground and sky merge and you are just adrift in lights.  The colors are always changing and fluctuating in what feels like an endlessly undulating wave.  Especially dramatic on a still California night, your senses are immersed, overwhelmed.  It is truly, truly stunning.
Thankfully, there are benches at various points along the path so you can stop and just sit, take it all in.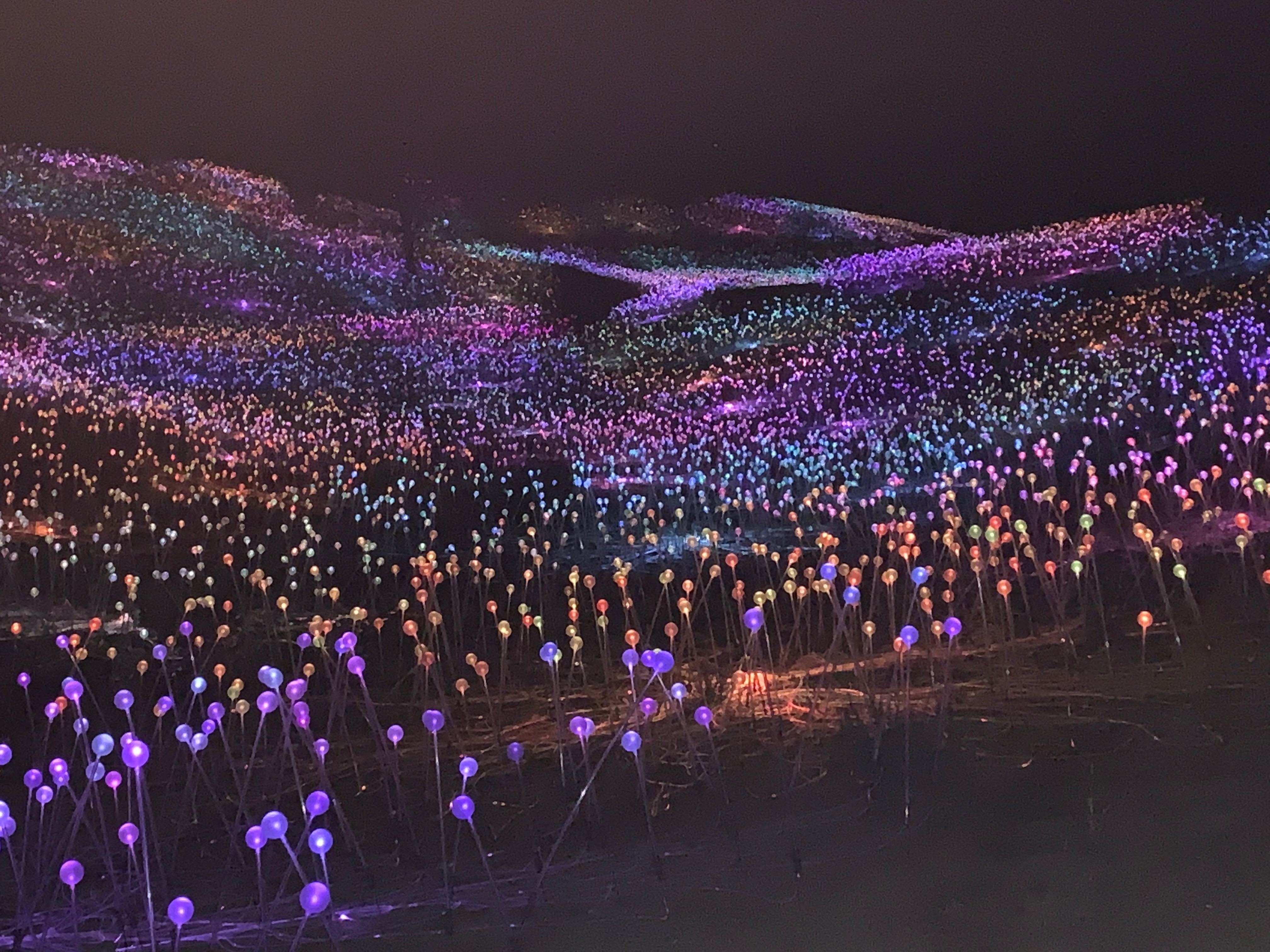 This amazing installation is the creation of British artist, Bruce Munro.  His work has been shown across the United States and worldwide (Denmark, South Korea, Australia) in galleries, parks, estates, cathedrals, botanical gardens, as well as in museums like the Guggenheim and Victoria & Albert.  The owners of the property, Ken Hunter and his wife, had seen a similar light installation by Munro in the Australian outback and asked the artist to Southern California to see if he might transform their own rolling valley.  They wanted to share the breathtaking experience with all their neighbors, and boy, did they.
It's another example of what creative minds can do, both individually and as a team effort.
But like me, you might wonder: how did they do it?  There is no way this sea of thousands of individual lights could be plugged into one electrical source!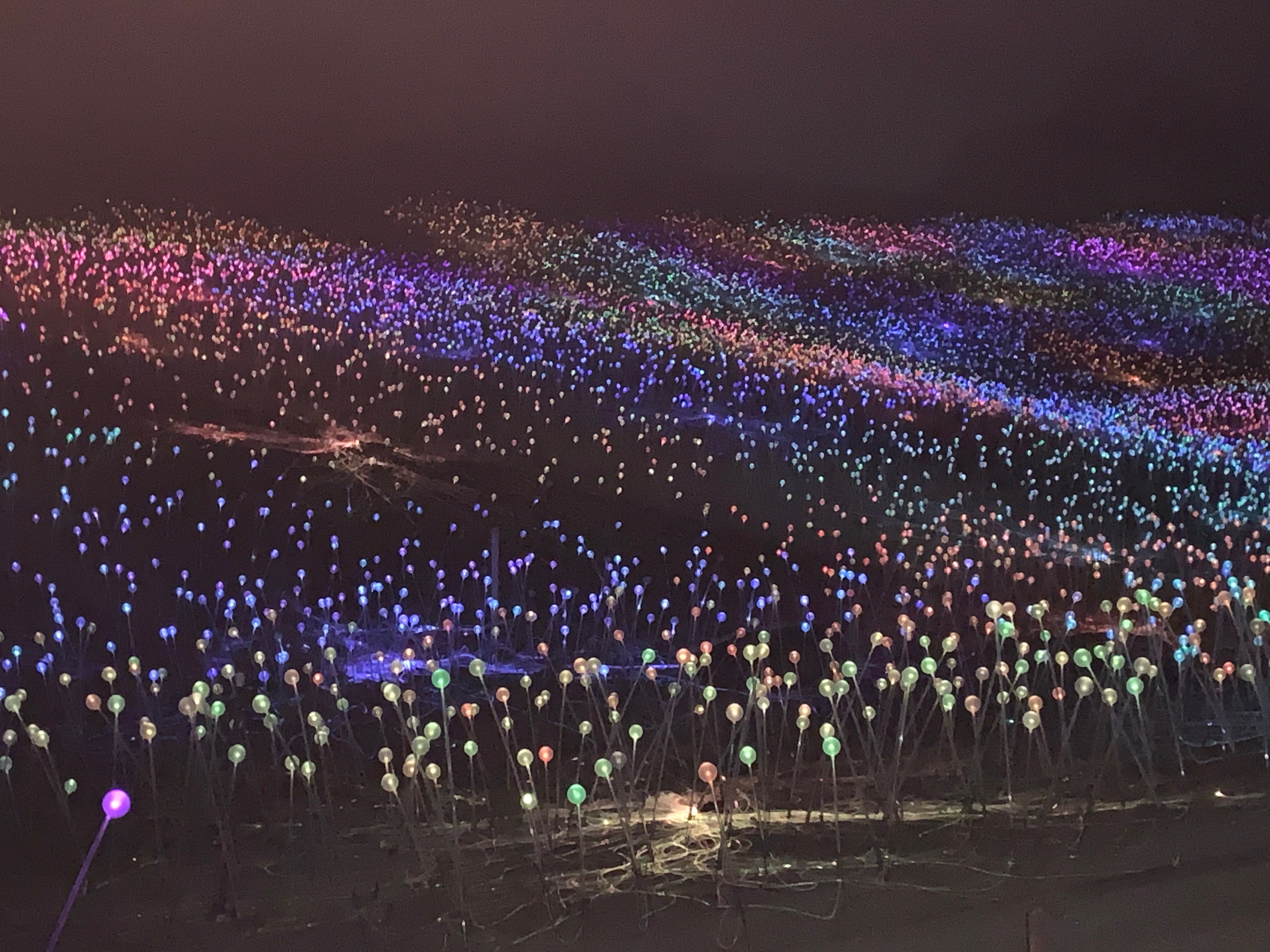 Well, no, it is actually an "Earth-friendly" project.  It uses energy supplied by solar panels that charge by day and power this awe-inspiring display from dusk to 11 pm every night.  "A total of 240 projectors operating at 25 watts apiece serve as light sources for several hundred fibers dispensed in shallow arrays laid atop the grounds.  As light pulses through the fibers, it's captured inside the glass spears."!  It's that constant movement of brilliant colors that gives it a painting-like effect, like ever-shifting brush strokes.  To learn more about the entire enormous undertaking, check out the magazine article here.
Whenever I view a totally original piece of art like this, no matter whether it is a painting, a sculpture, architecture, anything, I can't help but marvel at where it came from in the artist's mind.  I try and view it from a place of open wonder, but also try to feel what is the artist's overall intent.  What was he or she trying to say?  It definitely evoked a feeling of peacefulness in me.  All those lights are connected as one, make you feel small and giant at the same time, a part of the larger universe…and that may be the only message art ever needs.
It was a truly spectacular treat and I only wish it was not located so far away so I could go back and experience it over and over again!  If you are or are going to be in that part of the country, it is an absolute Must-Visit.  These photos, while beautiful, really do not do it justice.
And, unfortunately, it all gets taken down on January 5th, 2020 – so hurry up…
Go experience it yourself!