This morning I was watching Sunday Morning on CBS (that show is not ever to be missed…so if you're not up early enough, definitely DVR it!)  There was a segment about the talk show producer Peter Lassally who produced for several late night hosts and one of them was Johnny Carson.  In the interview he talks about how Carson was the most painfully shy man he ever worked with, which is very surprising for a man who hosted the most popular talk show in history.
It kind of jogged my memory to think about a girl I did several modeling jobs with, her name was Joanne Copeland.   She was very pretty and evidently, which I did not know at the time, an excellent golfer.  We were very close in those days as the agency booked us together quite often for photo shoots and fashion shows.  Our contrasting coloring, she was dark-haired and had a creamy-skinned complexion, along with both of us being petite, worked well for us to complement one another on our jobs.  In fact, later on, when I decided to enter the convent, Joanne came over to my house and bought quite a few of my clothes as we were the same size!
Anyway, as I heard it, Joanne was on the golf course with her father when she first met Johnny Carson.  He had just gone through a divorce from his first wife who had a similar name spelled differently, Joanna, but who went by the nickname "Jody".  I mention that because his wives' names can be confusing.  He definitely liked Joanne and somehow they met again in New York and she told the story that "Johnny kind of said to me on our first date, 'You love comedy so much would you like to come up and see a show I did?' and I said 'Is this a new way of saying come up and see my etchings?'".   Joanne went on to say he became bright red and was extremely shy!  She immediately knew he was the one.  That was in 1960 before he became the host of The Tonight Show in 1962.  They married in 1963 on August 17th and lived in a high-rise there in New York.  Johnny's career took off and he vaulted to fame.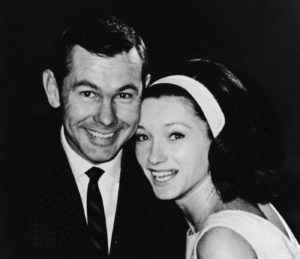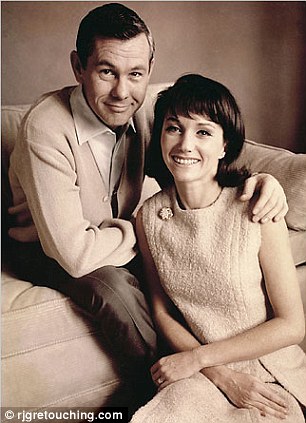 It was at least in the late 60's when Joanne and I reconnected.  Our lives had gone in different directions as I was first Sr. Gregory Anne, then left the convent and resumed modeling, then marriage and kids.  I was with Burt in New York on a business trip.  I called Joanne and we talked for over an hour.  She was as interested in all that I had experienced (especially my convent days) as I was in her life there in New York.   But then she told me that she was feeling very isolated as Johnny's whole life was the show and he never ever wanted to go out.  Joanne told me she was very lonely and felt like she was locked up in a ivory  tower.  She missed California terribly, the freedom, the sunshine.  We promised to get together again, but never did.  Joanne and Johnny divorced in 1972 and she returned to Los Angeles where she grew up.   I read that her divorce settlement was $6,000 a month.  She did remarry, but it didn't last.
In an interesting side note, Truman Capote and Joanne had become friends in New York and after the break up of her marriage they grew especially close in California.  Capote had a writing room at her house and it was there he died on August 25, 1984.
Joanne and Johnny remained friends and, ironically, he moved his show to Los Angeles and lived there in retirement until his death in January 2005 at 79 years old. He had married again but, as I understand it, was estranged from his wife and they were not living together when he died.  It certainly says a lot about celebrity. Even with all the idolization and fame he experienced in his lifetime, from the little I knew and what has been written about him, he never really found lasting happiness.
On the other hand, I think Joanne, although saddened by the loss of loved ones, enjoyed the rest of her life in California.  At one time she was going to write a book and was encouraged to do so by Truman Capote.  I wish she had!  Joanne died May 8, 2015 at age 83.
This last picture of the couple was taken in 1987