Happy New Year!
Just a quick update after taking some time off from the site in December.
I hope you all had a wonderful holiday season with family and friends…
I enjoyed a nice quiet Christmas with my son and a glamorous New Year's Eve out with Lou that I'll tell you about.
First of all, I can happily report that I have recovered completely from my neck surgery.  Up until recently, I was going twice a week to the prescribed physical therapy, just out of caution and despite the fact that my neck pain is all gone.  But last week, my therapist, Aldo, made it official and told me to get lost.  I was all healed and good to go.  So no more visits and back to normal life.  It's time, but I confess I will miss those neck massages. 😉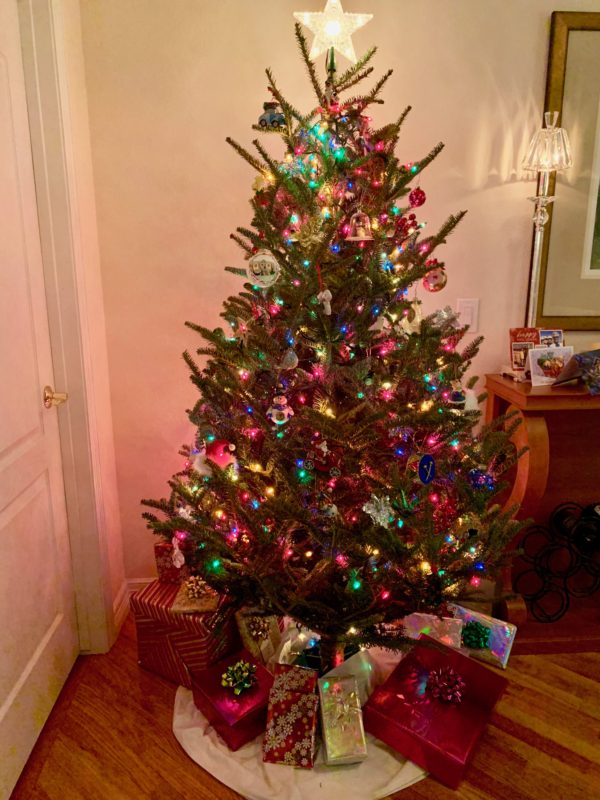 I have always loved Christmas, but it felt extra-special this year.  Frank and I keep up a lot of the traditions that we had when Burt and Chris were still with us.  Mostly they're just good excuses to lounge around in our pajamas and drink champagne.  We had to marvel at our little tree this year – it was so tight and perky that we almost couldn't hang the ornaments.  Last year, we got rid of a lot of our really ancient and tired ornaments (including, of all things, an old tuna can covered in green felt!) and went to a great Christmas store here called St. Nicks to buy a few cool new ones.  This year we did it again and went a little crazy…
A few of my favorites…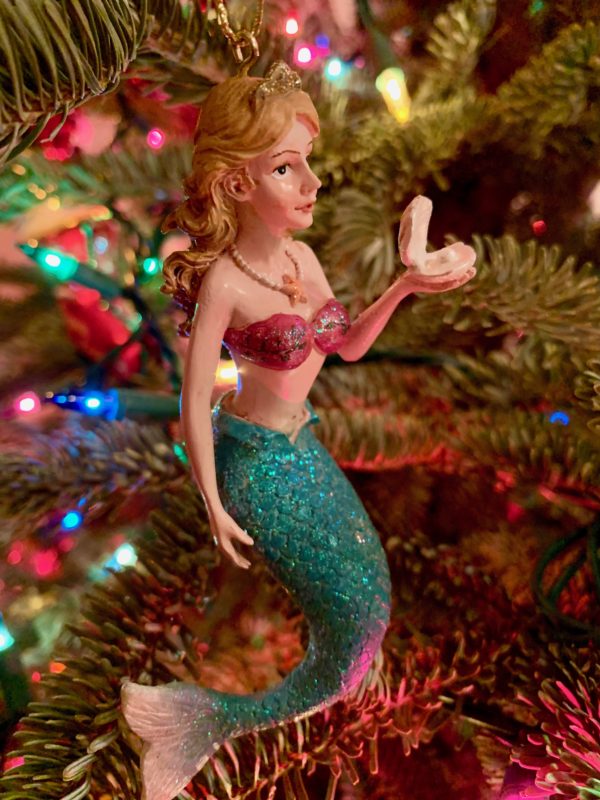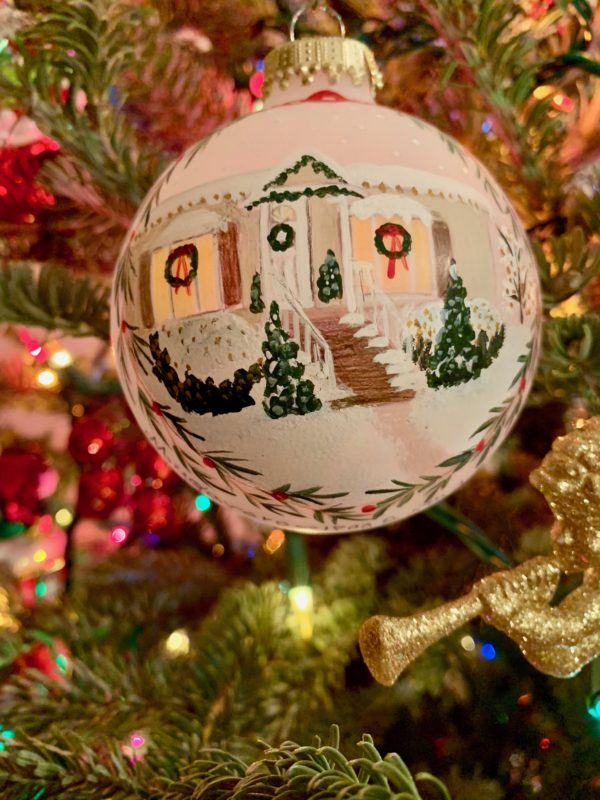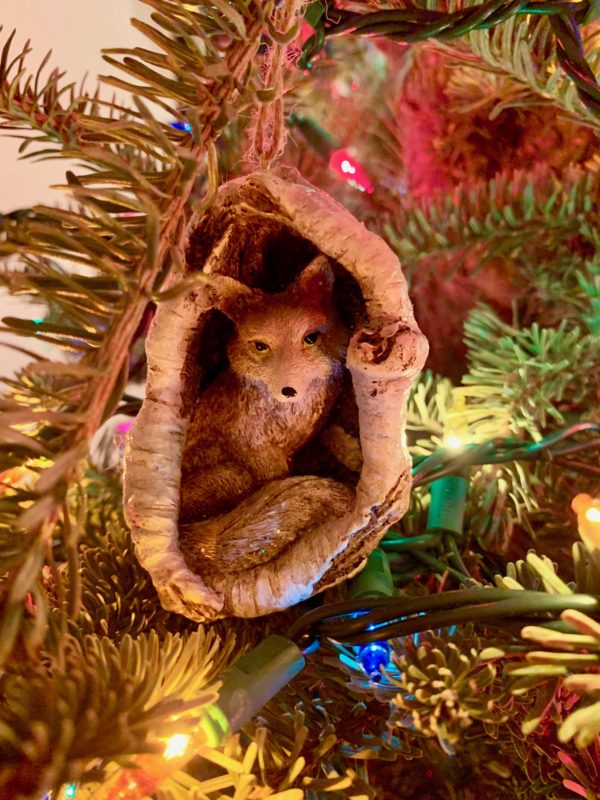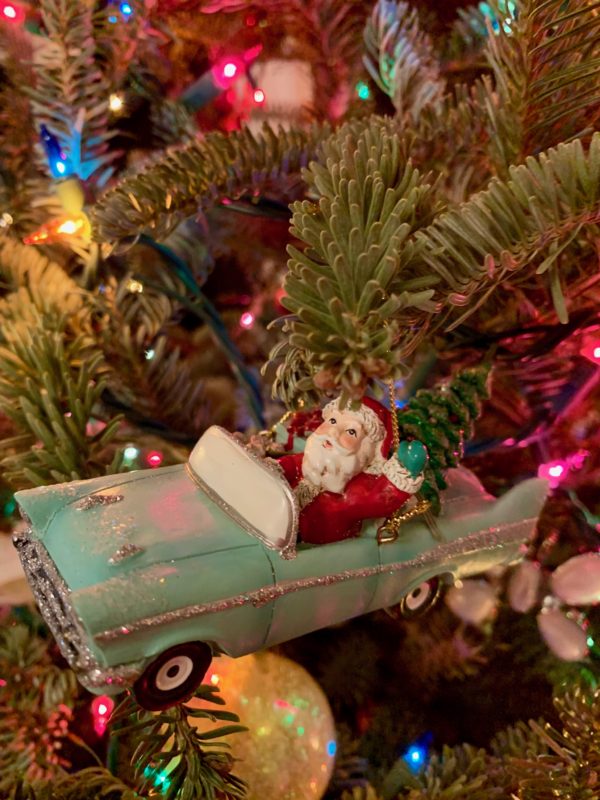 The Thunderbird is in honor of Christian, who was a proud owner of a classic 1965 T-bird back in the day.
(And you might just recognize that house on the hand-painted bulb)
The other ritual we always observe is to play what, over the years, has become sort of the official Mugavero Christmas album: "Once Upon A Christmas" by Dolly Parton & Kenny Rogers.  Our favorite song is "Christmas Without You", and it always gets repeated ad nauseum.  It never fails to put me in the spirit.
And I have to show off my favorite gift…  For years I've been asking for an Apple Watch, but Frank thought it was too much technology for this "old gal".   Well, finally, Santa – I mean, Lou – got it for me and I love it!  I think it's the neatest thing I've ever owned.  The new models operate without having to have your phone near.  They are waterproof which amazed me…meaning they can be worn in the shower or bath, and even swimming if set in advance.  They have an emergency button in case I need help and give all my vital health statistics.  I can talk on it while doing things and vocalize my texts!  So much better than standing still and talking on the phone.  There are too many features to list, but for my lifestyle I love how it measures my exercise and activities to keep me challenged.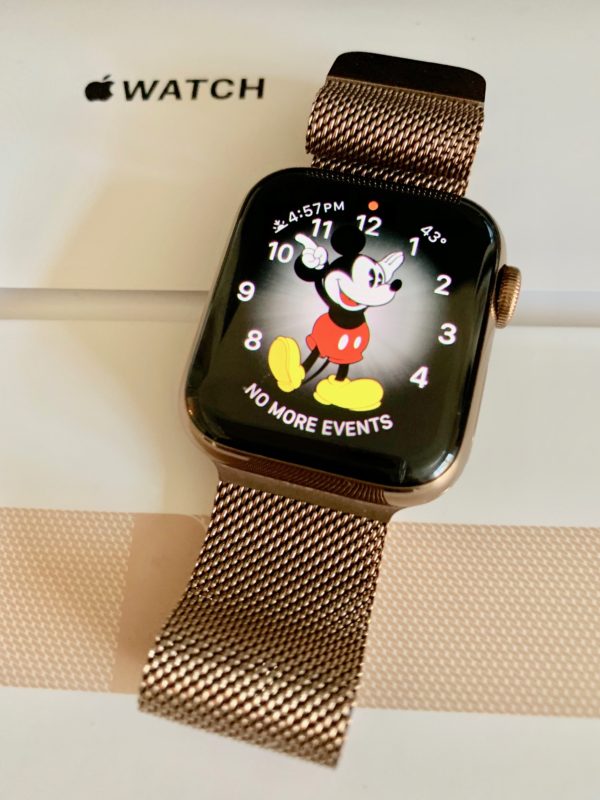 Lou and I attended a wonderful Christmas party for the construction company he founded, Palace Construction.  They had 160 employees at the Wellshire Inn, hosted by Michelle and Rick Carter, Lou's daughter and his son-in-law, the CEO of the company.  It was great fun, enjoyed by all.  It included an open bar, sit-down dinner and great band that got everybody up and dancing.  As a fun novelty, spontaneous videos of the party were taken at random and flashed on a huge screen throughout the night.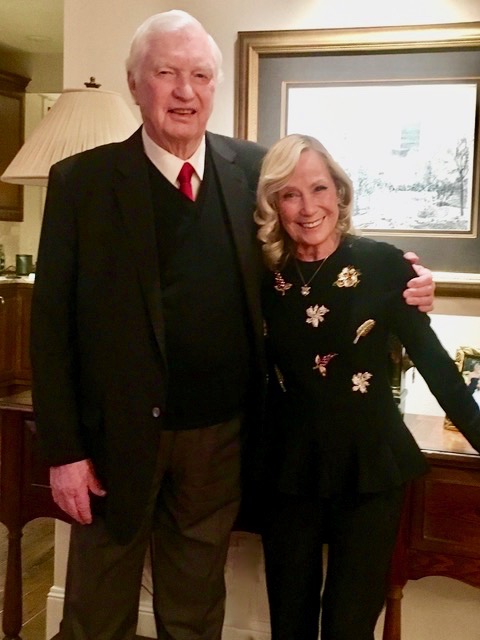 Speaking of dancing the night away, Lou also gave me a very romantic and glamorous New Year's Eve.  For the fifth year in a row, we rang in the new year at the luxurious Brown Palace Hotel.  The Atrium was, as usual, decorated to the max, absolutely gorgeous!!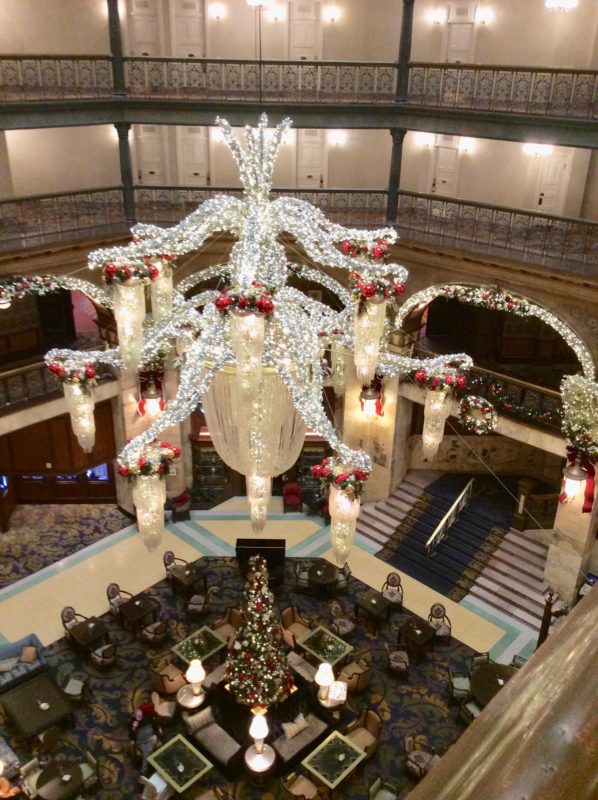 Throughout the evening, jazz and standards were played by a fantastic group of musicians, including the great John Kite on piano.  I was back in the same outfit and Lou looking so handsome in his tux.  We were still on the dance floor as midnight struck!  And yes, we sealed the New Year with a kiss.
I already posted this picture on Facebook, but just before Christmas we did a photo shoot of a remodel I did on a client's new Dining Room!  Karen and Steven liked to entertain often, but rarely used their Living Room.  As they had a Great Room which includes a fabulous kitchen, they asked that their Living Room be converted into a Dining Room.  We raised and created a coffered ceiling and opened up the entrance, vastly improving the lighting while we were at it.
Karen has a great talent for decorating and creating marvelous table settings, so I decided to break my rule of not photographing holiday motifs and asked her to let us shoot her Dining Room Table set for Christmas dinner.  This photo taken by Povy, a professional photographer I have been fortunate to work with for over 25 years, shows the result!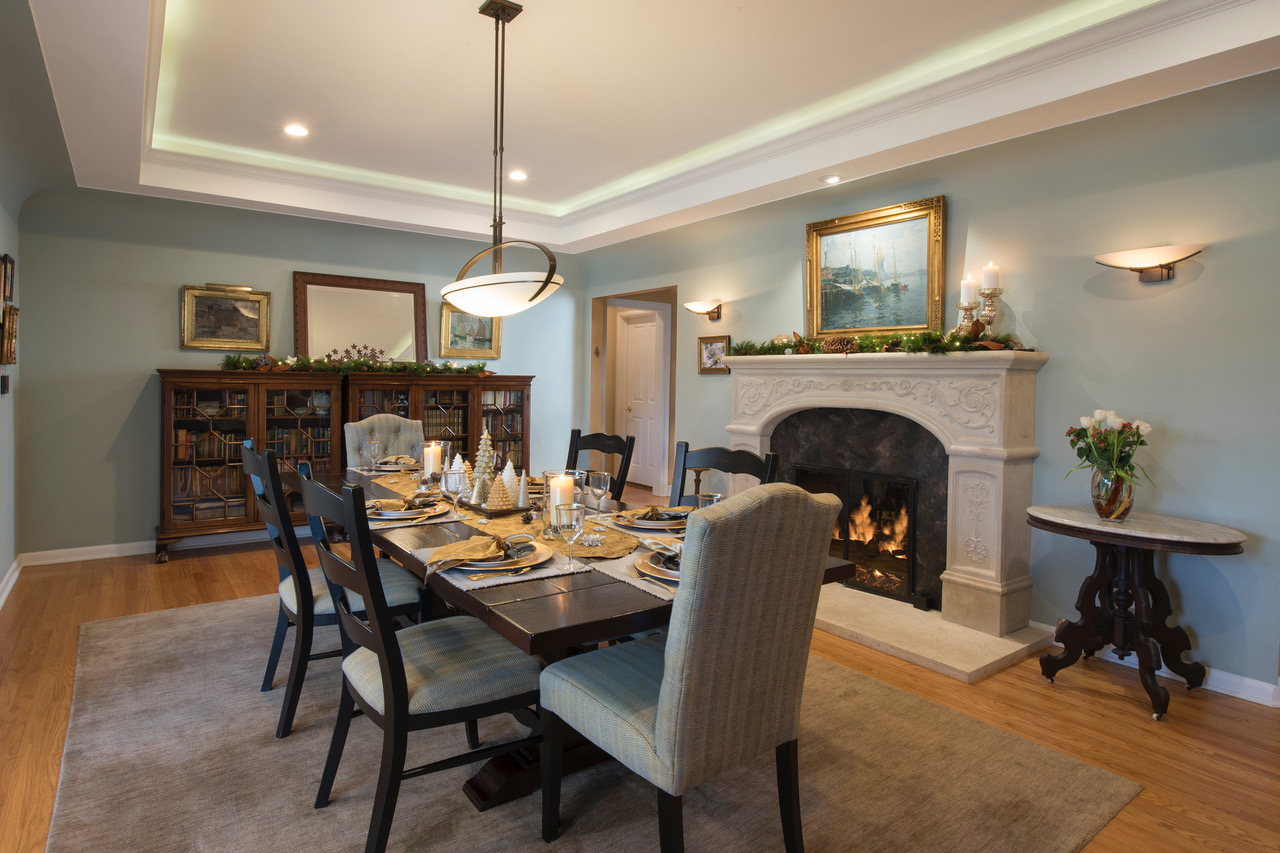 Karen's lovely centerpiece, place settings, wreaths and flowers really highlight the remodel and make for an inviting space.
If you're ever interested in seeing more of my design work, you can check it out here.  And Povy's photography site is here.
My resolution for the new year is to work less, mostly just re-do's with previous clients or design consultations, and ease into semi-retirement.  I'm hoping this will give me the time and freedom to get back to my artwork, where I started so many years ago!
As for this blog, I hope to get back to my themes of Beauty – showcasing products that really work; Exercise – doing more videos with updated exercise routines to keep fit (I have set a goal to be reached by my birthday in July!); and Lifestyles – highlighting the lives of people whom I admire, as well as more pieces about Burt, my indomitable, irreplaceable husband of 50 years – loved and missed by all, especially me.
What are YOUR resolutions?   Please let me know, if you leave a comment…
It almost doesn't matter if we inevitably fall short of the goals we set.  It's just important to always be reaching for something new, trying to become the best, most fulfilled version of ourselves we can.  It's a never-ending pursuit.  Have fun with it.
Well…  Now it's time to take down the tree and decorations, pay all the bills (gulp), and get back in the swing of things.
Thank you so much for joining me.
Stay tuned!
Kari