Part of what I hoped to do with this blog is celebrate unusual and bold life choices made by friends or acquaintances of mine.  It takes courage to make a decision that takes one on a new path totally out of their comfort zone, especially after a certain age, but the payoff can be enormous.
Eleven years ago, Rick & Michelle Carter gambled on a dream and created a winery, Sea Shell Cellars, in Paso Robles, California, which has been steadily growing in sales and reputation ever since, and recently winning awards for its wines left and right.
The winery's name was inspired by the couple's first meeting on Balboa Beach in Orange County in 1982.  Michelle, a Denver native, was visiting a friend in Southern California, when she was introduced to Rick Carter – born and raised in the Golden State and working on his law degree.  Their initial summer courtship was a romantic blur of sand and surf, sun-filled days and bonfire nights, barbecuing and lots and lots of jug wine.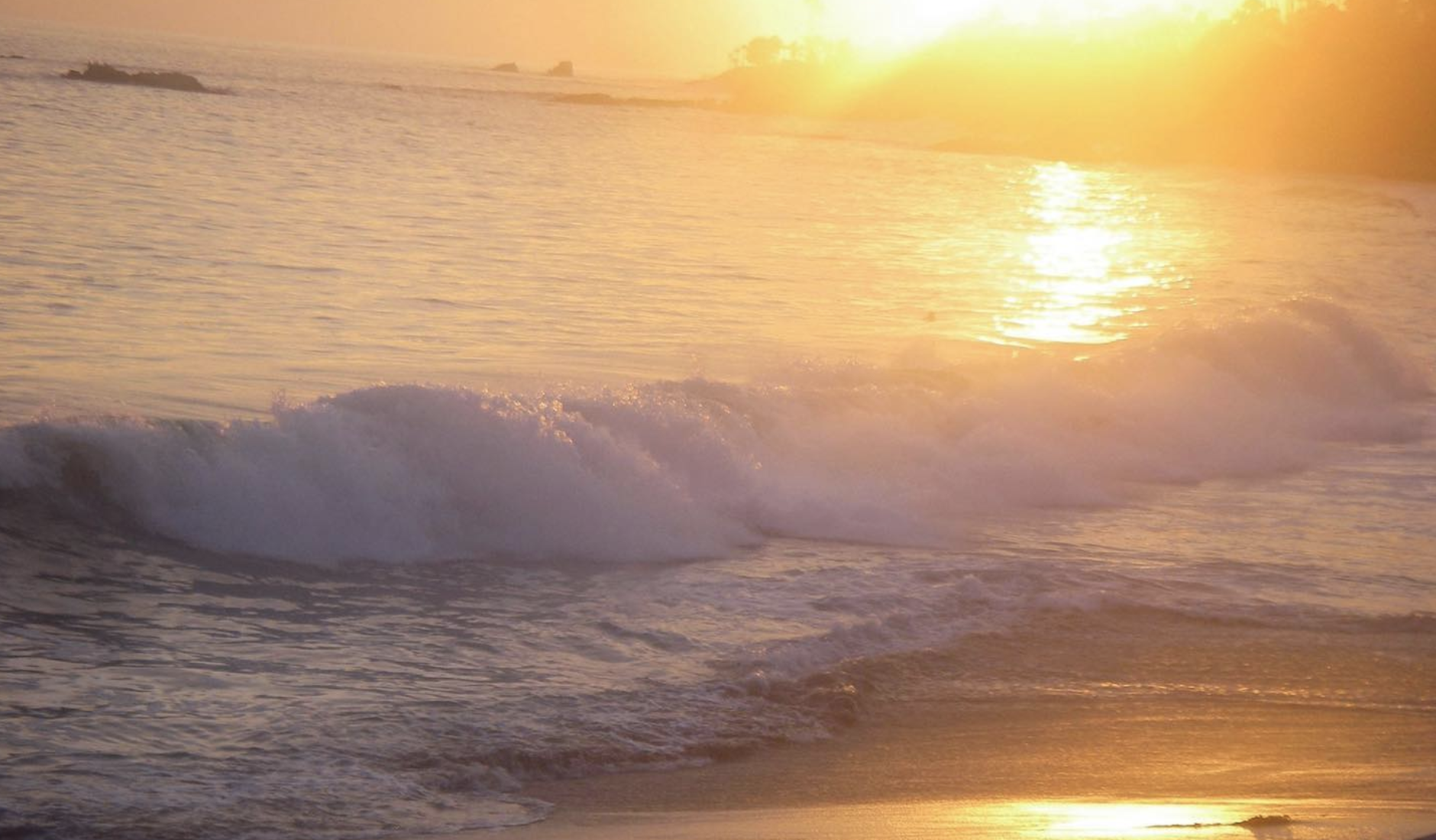 Despite their shared love of the ocean, when they got married and Rick had passed the California bar, they settled down in Denver to be near Michelle's family and Rick decided to accept a position in his new father-in-law's business, Palace Construction.  There Rick worked his way up, becoming a major asset to Palace, and helping the company thrive over the next 20 years.  At the same time, the couple raised two beautiful daughters, Jaidi and Raili.
The Carters often returned to California to visit Rick's parents and siblings, where they introduced their girls to the joys of beach life as well.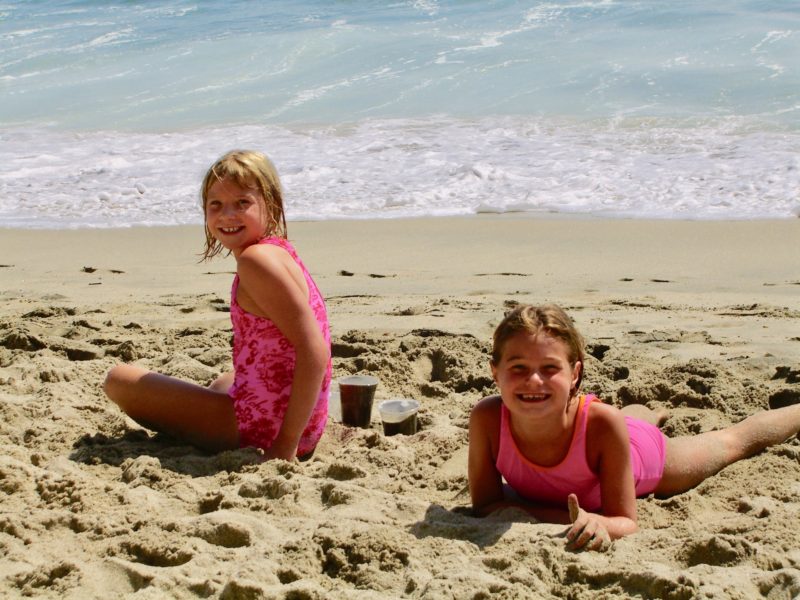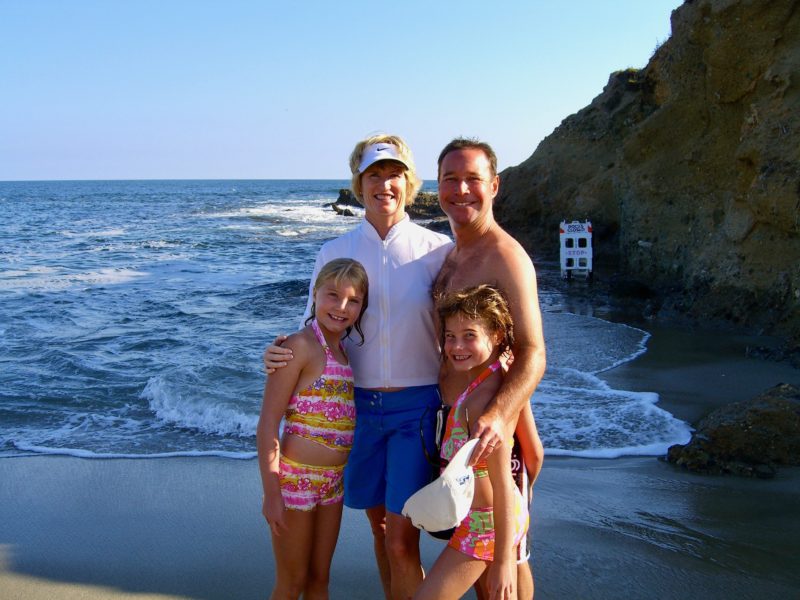 All was well and in its proper place – they were very fortunate.
Still, Rick had a yearning for something more, a secret dream of owning a vineyard and creating his very own wine label.  He told Michelle who was also excited by the idea and after a while, they let the girls in on the fantasy.  As a family, they had fun discussing what they might call this imaginary winery, and Sea Shell Cellars was born!  The girls even drew pictures of what the labels should look like.  That led to label names like "Low Tide" (the best time to find sea shells), "The Collection" (each label has a fine-art drawing of a different type shell), and "Balboa" (in homage, of course, to the Beach where Michelle and Rick first met).
But how to turn this daydream into a reality?
It began with frequent trips out to the coast to shop for land and consult with realtors.  It turned into an epic and seemingly impossible search, but eventually they found a 97-acre vineyard in the rolling hills of Paso Robles, with rich soil, two wells on the property and 60,000 lush grape vines.  Best of all, it was only a half hour away from Highway 1 and the ocean.  The name they had chosen, the goal and philosophy of the label, it all seemed to fit.  The asking price would bust their budget, mind you, but they couldn't resist.  They decided to gamble and take the plunge.  Yay!
Unfortunately…the year was 2008!  Almost immediately after making the purchase the stock market collapsed and, to a large degree, so did the construction industry.  It was the worst possible timing.  By this time Rick had become CEO of Palace and keeping the company afloat was his responsibility…a lot of pressure on his shoulders.  He was forced to downsize and economize.  The idea of doing this while also venturing into the wine business as a complete novice seemed like the height of folly; but the dream kept them putting one foot in front of the other and they persevered.
THEIR VINEYARD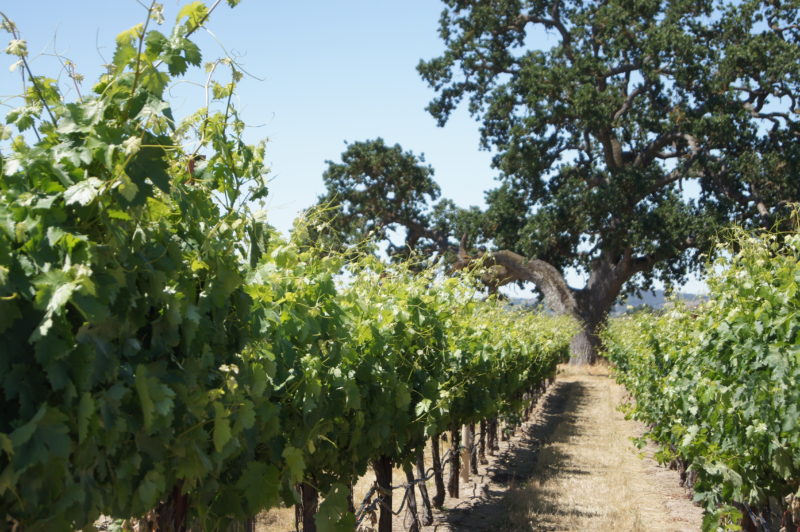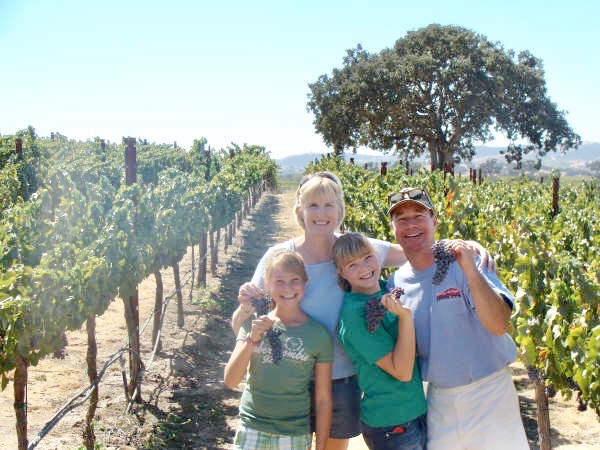 It wasn't easy.  At first they sold the majority of their grapes to other wineries and depended on the former owners' wine production.  But as they learned the business, it became clear they needed to take more control and put together an experienced team they could trust.  They struck gold when they were able to acquire the services of Tony Domingos, a fourth-generation farmer in the area.  He tends grapes with an invaluable expertise that comes from years and years of hard-won trial and error.  Their luck held again when they found Winemaker Jeff Strekas, who has worked for wineries around the world and produced a wide variety of premium wines.   The Carters kept it a family enterprise with the addition of Rick's sister, Rochelle Carter, who moved to Paso Robles and managed the daily operation and coordination with Rick & Michelle in Denver.  This long-distance oversight, Michelle told me, was the biggest difficulty they faced.  However, she managed to make up for it by developing a strong social media presence online, which has really boosted Sea Shell's fast-growing popularity.
As Jeff developed more and more great-tasting wines they have accumulated a myriad of accolades and awards,  some of which are shown here.  One of my favorites is their Grenache Rosé.  It has proven so popular some local restaurants here in Denver are stocking several cases.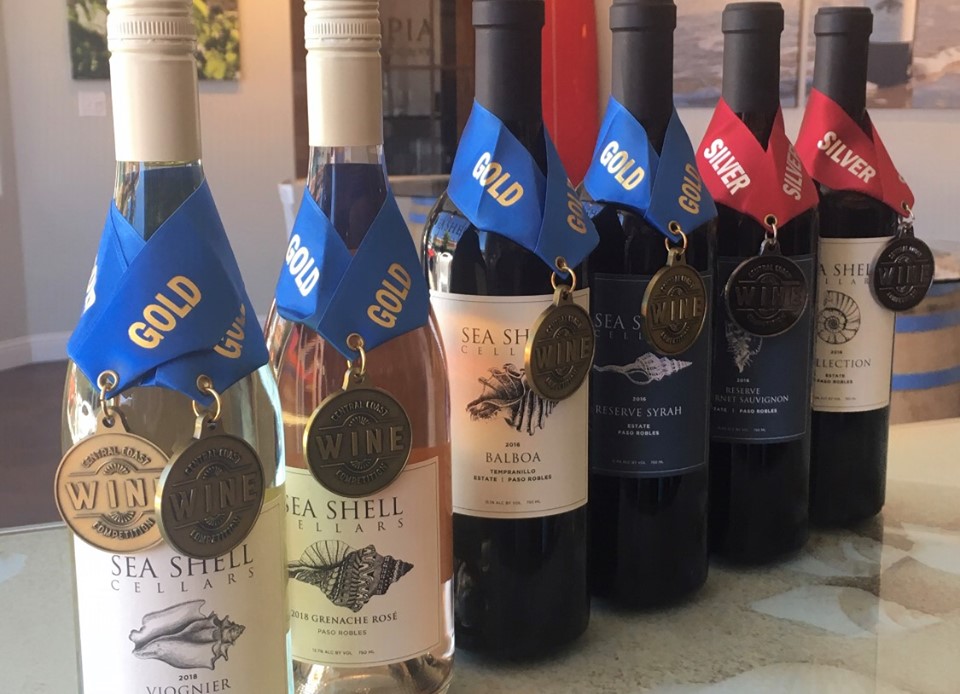 And just two months ago, Seashell achieved a major new achievement by opening a tasting room of its own.
Rick and Michelle asked me to help them redesign the space, to exemplify the Seashell beach motif with an appropriately laid-back feel.   We remodeled it from the previously-owned tasting room pictured below.
BEFORE
AFTER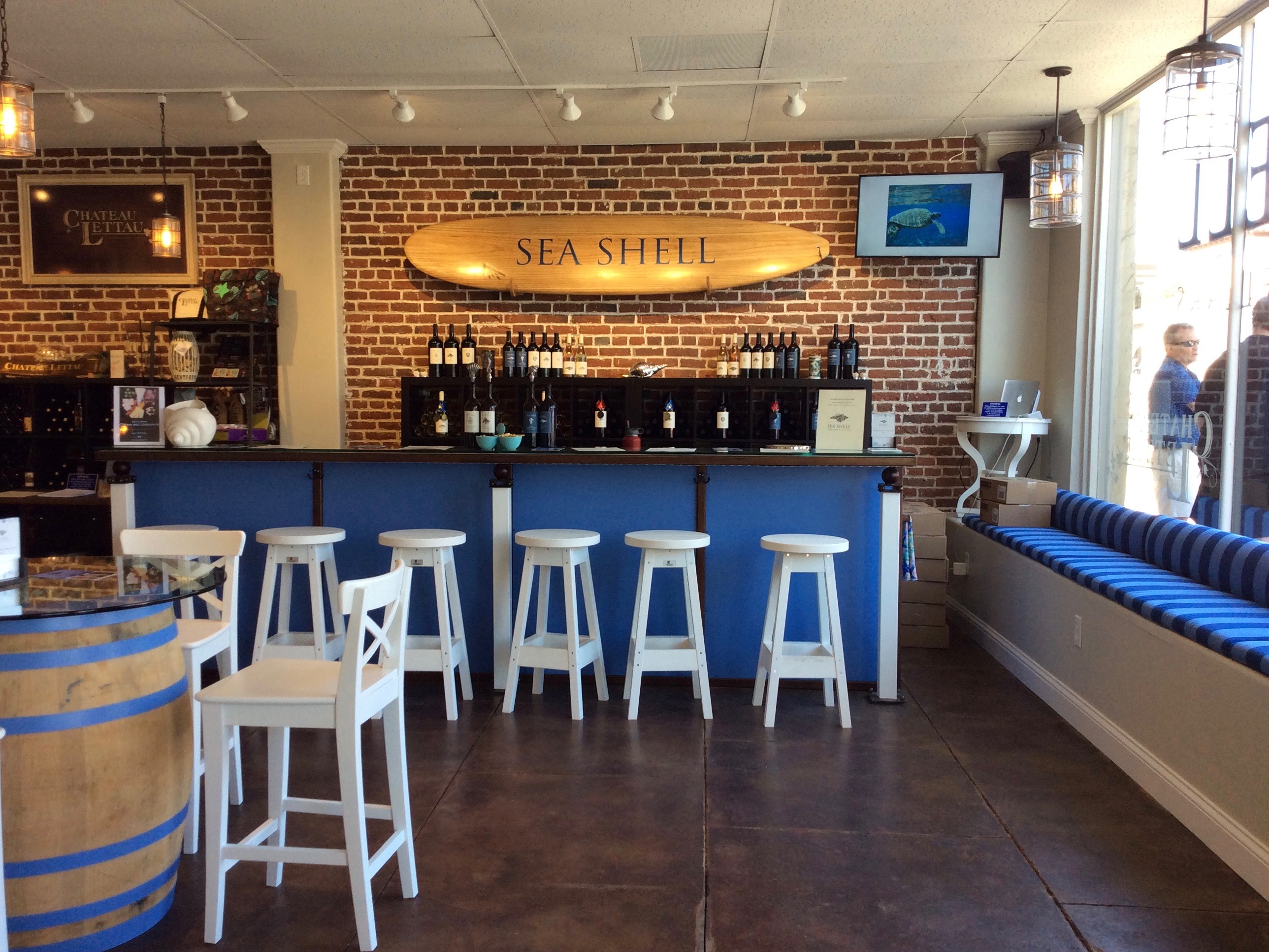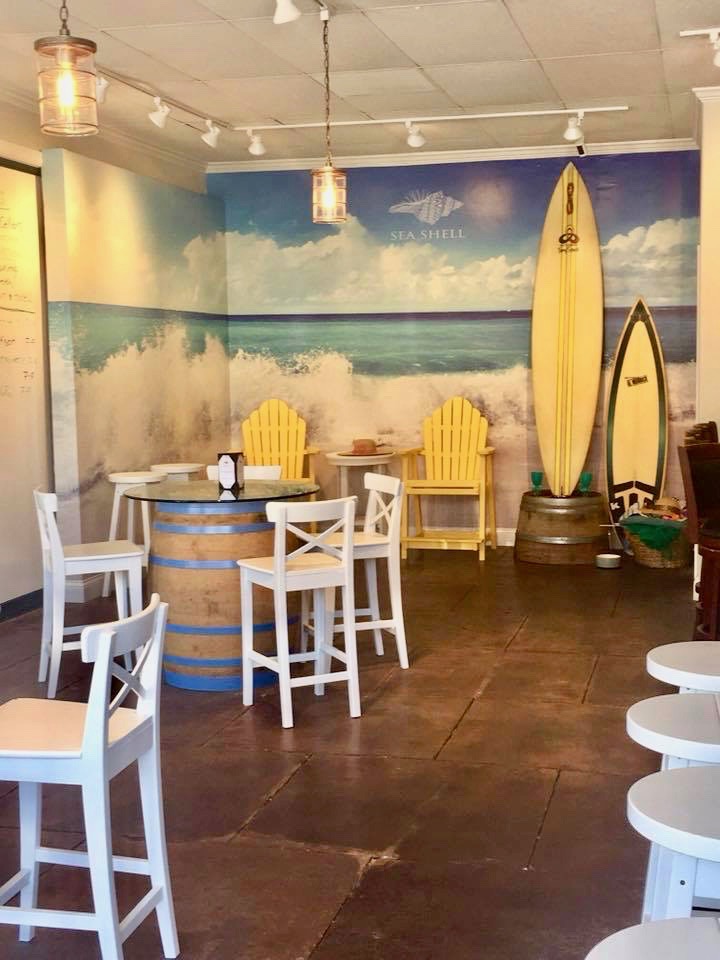 As you can see by the transformation, the beach theme makes it a fun and welcoming place in contrast with its more stuffy local counterparts.  Hopefully, when people stop in for a taste, the relaxed atmosphere takes the intimidation out of buying wine.
There is even a Selfie Wall with a seaside mural of waves crashing.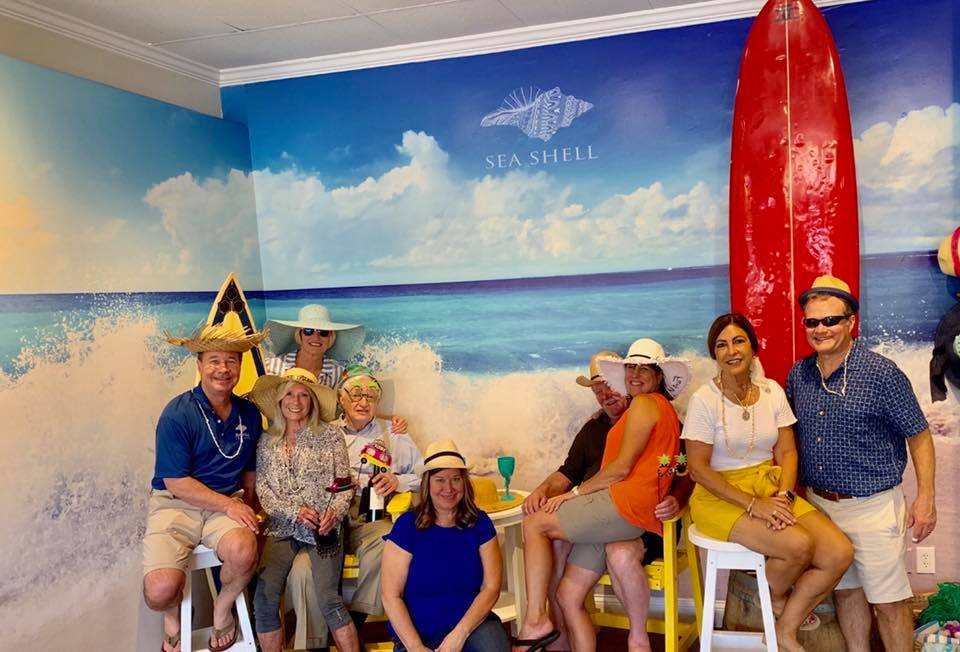 Here's an article in the Paso Robles Daily News on the tasting room's grand opening.
The bottom line and moral to this story is the Carters persisted through lean times and past many obstacles, but succeeded in making their personal dream come true!  It took passion, patience and, yes, maybe even a slightly naive optimism, but it all paid off in the long run.  Sometimes you have to trust your heart and take a leap in the dark.  Listen to that little voice or believe that vision pointing to a better, more fulfilling life…
There is no greater satisfaction than taking a chance on yourself and winning the bet.
It tastes so sweet!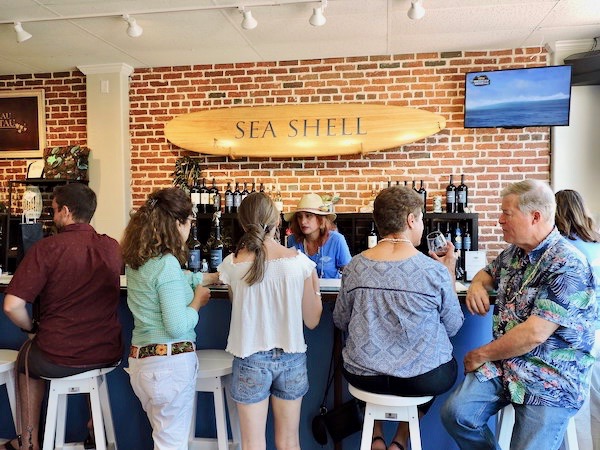 Stop in and check out their wine at:  Sea Shell Cellars Tasting Room, 840 13th Street, Suite G, Paso Robles, CA  and say hello to Denise (shown above) or Shelly!
Denver restaurants that serve Sea Shell include Shanahan's,  Elways,  Ya Ya's,  and Avelina.
But anyone can go into a store and ask them to order Sea Shell from their distributor: CS Wines.
Or you can check out and order direct from their website here.